COVID-19 Info & Updates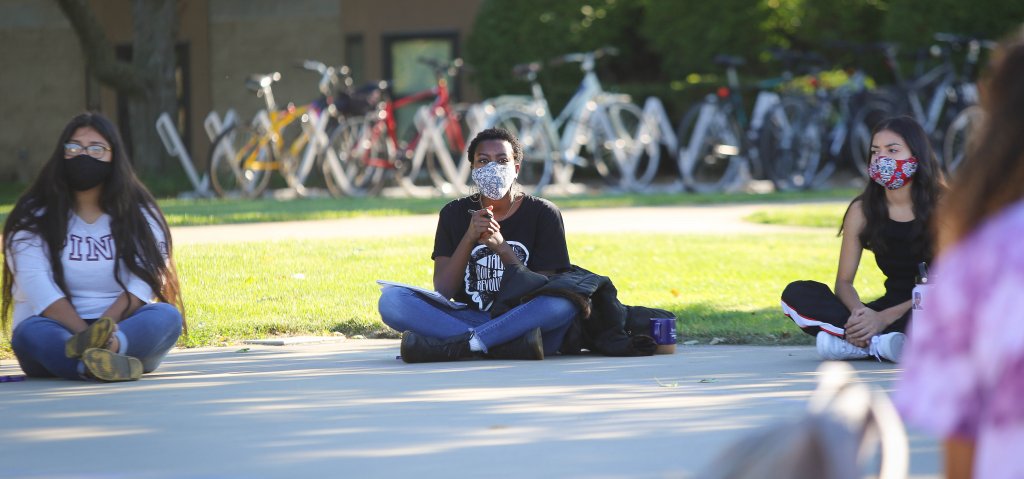 With the health, safety and well-being of all members of the Goshen College community, our broader community and the world being our highest priority, the college continues to closely monitor the risks of the COVID-19 pandemic to our students, faculty and staff. This website will be updated regularly to reflect new developments.
» Goshen College COVID-19 Data Dashboard
» Mandatory weekly COVID-19 testing info and webcam
Email the Pandemic Task Force: pandemic@goshen.edu
COVID-19 Reporting Form
Do you have COVID-19 symptoms, a positive test result or exposure to some who tested positive? Whether you are a student or an employee, please use this form to notify the campus about your symptoms and condition (including COVID-19 test results, exposure to someone who tested positive, etc.). A campus advocate will be in touch with you as soon as possible about the next steps. Please remain in quarantine/isolation until you have spoken to your assigned advocate.
Fill out the COVID-19 Reporting Form
COVID-19 Vaccine Confirmation Form
Use this form to notify the institution that you have received your first or second dose of the COVID-19 vaccine. You are exempt from weekly testing after you have completed both doses.
Fill out the Vaccine Confirmation Form
COVID-19 Non-Compliance Report Form
Students and employees can use this form to report anonymously those who are violating the Goshen College COVID Pledge. Students or employees who are not following the COVID-related policies and guidance can become subject to disciplinary measures. This includes not wearing a mask inside of buildings, not practicing appropriate physical distancing or breaking the COVID-19 visitor/guest policy in the residence halls.
Fill out the Non-Compliance Reporting Form
Goshen College's 2020-21 COVID-19 Plan: Fostering a Culture of Common Good, Kindness, Trust and Learning
---
Goshen College COVID-Related Policies and Guidance
Quick Links
External Resources
---
Videos
---

Open Offices and Hours

Consult goshen.edu/contact for clarity about which offices are open to the public, how to schedule appointments and their hours of operation.

COVID-19 testing site for the public NO LONGER AVAILABLE on campus: During the cold winter months, Maple City Health Care Clinic's COVID-19 Mobile Testing Site, previously in the parking lot south of College Mennonite Church, has moved to an indoor location at Walnut Hill  Mennonite Church.

---

Contact the Pandemic Task Force (PTF)

Contact us: pandemic@goshen.edu

Contact the Student-Led Pandemic Task Force: studentledptf@goshen.edu

Pandemic Task Force Members:

Dr. Gilberto Perez, Jr., vice president for student life (chair)
Kevin Miller, BSN, MPH, major gift officer (lead campus contact tracer and PTF coordinator)
Dr. Rebecca Stoltzfus, president
Jodi Beyeler, vice president for communication and people strategy
Dr. Beth Martin Birky, associate academic dean
Cynthia Good Kaufmann, interim director of facilities and director of events
Wesley Beck, a sophomore chemistry and secondary education major from Goshen
Sandra Cortez, a senior nursing major from Elkhart, Indiana
Eden George, a senior psychology major from Bangalore, India
Ronit Goswami, a junior exercise science major from Goshen
Krislynn Lancaster, a senior molecular biology/biochemistry major from Milford, Indiana
Katja Norton, a senior nursing major from Goshen