Hunsberger Haitian Art Collection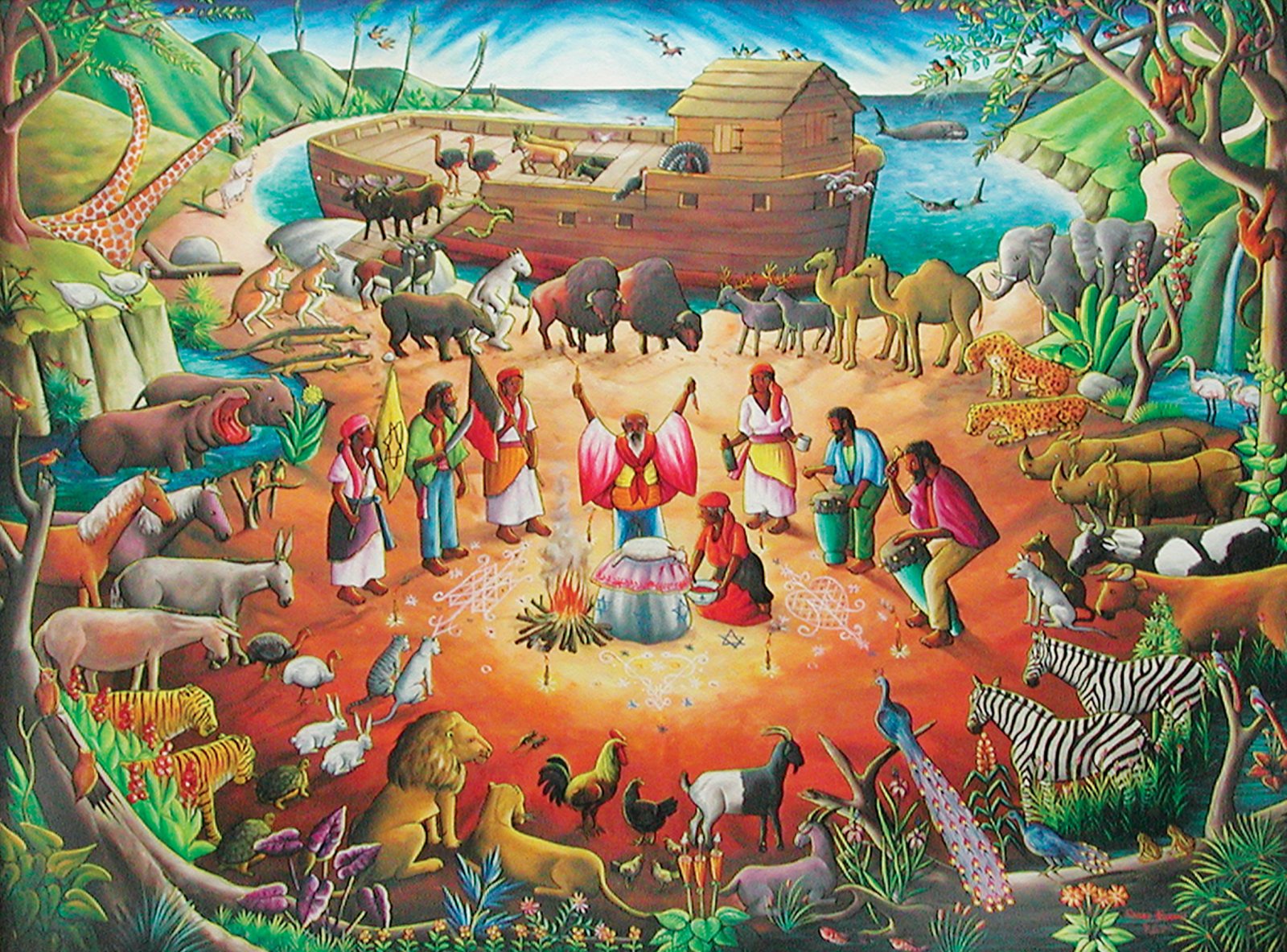 Please note:   During the renovation of the Westlawn building, the Hunsberger Haitian Art collection will be on hiatus from the Hunsberger Commons.  Once the cafeteria renovation is complete, and food services returns to Westlawn, the Haitian art will return to the walls of the Hunsberger Commons, and its permanent home.
In 1962, while Goshen College Director Emeritus of International Education Arlin and Naomi Hunsberger '55 were working in Haiti with Mennonite Central Committee (MCC), they were captivated by the local art. As they became familiar with Haitian artists and galleries, this interest turned into a passion, feeding a desire to learn more about a country that they had come to love. Over the course of 18 years in Haiti working with MCC, Mennonite Disaster Service, Church World Service, Organization of American States, Pan American Development Foundation and as Goshen College Study-Service Term (SST) leaders, they amassed a collection with nearly 100 pieces of art — one of the finest Haitian art collections in the Midwest — that depicts the everyday, the historical and the legend of Haitian life and culture. The rotating pieces on display are just part of the overall collection. The Hunsberger Commons has become a permanent home to their Haitian art collection, which makes the space colorful and expressive of Goshen's international engagement.
"We are honored to pass along this collection of art for future generations of students, faculty and visitors that it might inspire an understanding of Haitian culture and the fascinating world of Haitian art. Most of all we hope that it brings pleasure and enjoyment… It makes us happy to know that the wonderful talent of these world renowned artists will be accessible to the public."
Arlin & Naomi Hunsberger
Hunsberger Commons
The Hunsberger Haitian Art Collection is located in the Union Building's Hunsberger Commons. The main corridor of the Union has been turned into a collaborative commons, combining meeting spaces and a renovated cafe, recapturing the Union's central role as the campus crossroads. The public is welcome!
Find the hours and menu for the Leaf Raker Cafe here.
Hours
The Union Building and the Hunsberger Commons are open to the public:
Monday – Friday: 6 a.m. – 8 p.m.
Saturday – Sunday (and most holidays*): 6 a.m. – 6 p.m.
*Not open on Christmas Day, Thanksgiving Day, New Year's Day or July 4th.
There is no cost to visit and enjoy the collection.