Grants provide renewal for faculty scholarship
Goshen College faculty members are exploring the power of poetry in the Irish Civil Rights movement, creating a manuscript on comics and the female body and upgrading science lab equipment thanks to the college's first faculty renewal grants.
Goshen College President Rebecca Stoltzfus introduced the new grants soon after she joined the college in November 2017, with the first round of proposals funded last spring.
"The faculty are the most essential resource of a college," Stoltzfus said. "In an era of tight budgets, I wanted to ensure that faculty had access to funds that would allow them to renew their scholarship and teaching."
Stoltzfus raised $1 million for a President's Innovation Fund in her first six months in office, and dedicated $335,000 to a faculty renewal fund, both outside the college's operating budget. Stoltzfus is grateful for the generosity of the college's board of directors, president's cabinet members and the alumni and friends who contributed to the fund.
"I am deeply appreciative of the respect and enthusiasm our donors have for our faculty and their role in enriching our campus," she said.
New Academic Dean Ann Vendrely, who took office in July, will continue to issue requests for proposals until the funds are fully allocated.
"Topics were very wide-ranging and show the breadth of interest areas across campus," Vendrely said about the first round of proposals. "Some focused on improvements for specific courses or disciplines, including purchasing equipment for student use; others were specific professional development activities such as completion of workshops and terminal degree programs."
In the mathematics department, professor David Housman and assistant professor Sara Patrick used funding to redesign the quantitative reasoning course that all Goshen College first-year students take. Along with redesigning some of the content itself, the grant allowed faculty to further train and pay student teaching assistants to help guide students in discussion and collaboration.
Housman said he is already seeing the effects of those changes.
"We feel energized and excited that more students will obtain a better facility to use quantitative information and reasoning in making personal, business and societal decisions," he said. "In particular, we have already seen a significant increase in students seeking help both during class and outside of class time."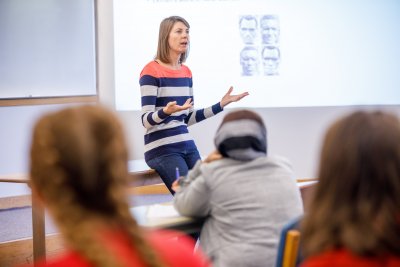 Psychology department faculty used the grant funding to attend a summer institute on the growth mindset, the understanding that students have the power to influence their learning potential rather than have a fixed intelligence. Julie Reese, professor of psychology, said the department is now sharing its learning with other faculty and developing ways to encourage a growth mindset in students.
"We are extremely grateful to Dr. Stoltzfus for her commitment to re-energizing faculty. She did more than offer kind, encouraging words. She provided resources for renewal — an opportunity to consider possibilities, learn new things, dream of tomorrow and gain more excitement for our work and our disciplines," Reese said, adding that Stoltzfus is "indeed, modeling hope and the importance of a growth mindset for us faculty."
The faculty renewal grants fund up to $12,500 for an individual grant project or up to $25,000 for a team project. The second round of grant recipients will be named this fall.
2018 Faculty Renewal Grant Recipients