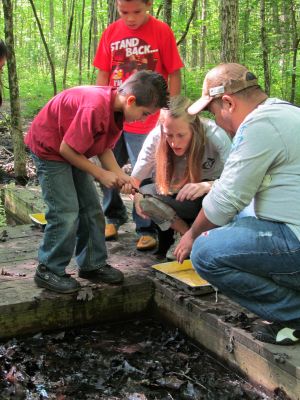 The summer core courses provide content and the fundamental skills to understand, preserve and manage natural resources. Building off of that knowledge, graduate students then develop interpersonal skills through the practicum, enabling them to be an effective leader and create challenging, safe and fun learning environments.
Graduate students will join the Merry Lea Environmental Education Outreach Team in the delivery of a variety of high quality environmental education programs.
Through the practicum, participants will gain experience teaching a wide range of age groups from kindergarten through high school, and adults. Educational programs include onsite day programs for public, private, and/or homeschool students, after-school environmental education programs for elementary school students, and selected public programs.
Participants will catalyze their growth as environmental education practitioners through reflective writing, academic study, dialogue and conversation, and a culture of feedback.