Professor Joel Pontius named co-editor of Springer Nature's Environmental Discourses in Science Education Series
For his whole life, Joel Pontius has cultivated a deep curiosity with the environment. Now, with extensive experience in teaching and writing about sustainability education, Pontius has the opportunity to shape leading-edge publications for international audiences in the fields of environmental and science education.
Joel Pontius, associate professor of sustainability and environmental education at Goshen College's Merry Lea Environmental Learning Center, received an editorship at Springer Nature.
As co-editors of the book series, "Environmental Discourses in Science Education," Pontius and Deborah J. Tippins are responsible for shaping the overall content for publication. According to Pontius, this includes finding authors for specific topics, evaluating book proposals, providing feedback to authors' manuscripts and managing an editorial board of environmental experts.
"Since the book series is international in scope, I'm excited about this project as a way to connect sustainability and environmental education leaders, scholars and educators all over the world," said Pontius.
Pontius published his first book with two other co-editors as part of this series in June 2020. "Place-based Learning for the Plate" explores how to reciprocally integrate physical places and our personal lives more intentionally. Specifically, it shares stories of place-based learning through hunting, foraging and fishing.
Pontius solely wrote two chapters in the book in addition to his role as lead editor. It also features chapters from Goshen College faculty and alumni, North American Indigenous people, people of color and international scholars.
"Through that process, I got to know the Springer team and was recommended for the role of series editor," Pontius said.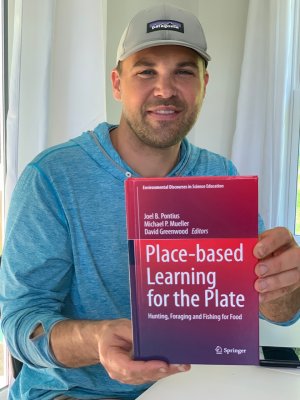 Pontius has diverse expertise in sustainability education, place-based learning, holistic and experiential learning, writing as inquiry and narrative approaches to research. Many of these fields manifest in his work as director of Merry Lea's Sustainability Leadership Semester, an undergraduate residential program that takes an interdisciplinary approach in empowering young sustainability leaders to create resilient futures for local communities.
Now, as a series editor, Pontius can further the original intent he set when writing the book as a way to "bring together diverse scholars from multiple disciplines who have a heart for the earth and its flourishing," he said.
As Springer Nature describes, "The series emphasizes ideological analysis, curriculum studies and research in science educational policy," using ecojustice philosophy. To cover such a broad range of writings within nature education, Pontius said that the editorial team will seek varied narrative essays, philosophical and theoretical pieces and educational research.
The series will recognize "the tensions between cultural and natural systems, the way language is endorsed within [and influences] communities… and morals and ethics embedded in" ideologies of learning and education.
Uniting these themes is a tangible hope that the book series will bridge "places and cultures toward human interconnection and a greater sense of our kinship with the earth," described Pontius.
"One way to view this kind of editing work is that it's like inviting a group of people who don't yet know each other over for a meal, who you imagine may end up being good friends. I look forward to the relationships that will emerge through this work," he said.