Merry Lea Environmental Learning Center of Goshen College is dedicated to:
Providing a natural sanctuary for northern Indiana's plants and animals
Providing environmental education for people of all ages
Providing a setting for re-creating opportunities that benefit the human body and spirit while not exploiting the land or excessively disturbing its ecosystems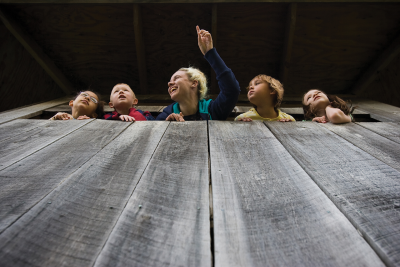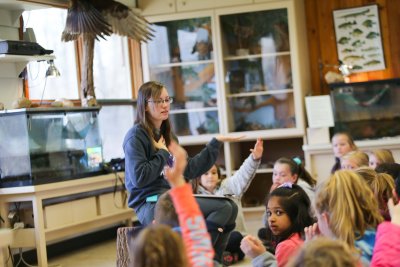 Education is, by nature, interdisciplinary and integrates many fields
Environmental education incorporates ecology, biology, chemistry, and physical/outdoor education into curricula.  Throughout Merry Lea's Graduate Program curriculum, ecological learning and pedagogical skills are enmeshed.
Our approach depends on knowing and understanding systems-thinking. We learn about natural history, research methods, and land management to understand ecological systems. Drawing from principles, history, and issues of environmental education, and from leadership skills, we learn to work in social systems. In the faith and peacemaking seminar we think about how to communicate between worldviews, and in the Bahamas we put it all together.
"Merry Lea's focus on interdisciplinary, inclusive, experiential, and constructivist teaching and learning makes the program stand out from other graduate programs. They don't just talk about learning through action and participation–they do it."

– Hannah Miller, 2010 grad
A foundation of your experience is exploring and learning about our outdoor classroom and ecosystem laboratory/nature preserve that contains a diverse group of Indiana ecosystems that have been managed to provide both rare and typical Midwestern habitat including: wetlands, bogs, lakeshores, upland and lowland forests, prairies, and meadows.
Academic Courses and Seminars
The degree is built around four major components:
1. The Eight Core Courses,
2. One seminar-style course called Professional Field Studies,
3. An extensive teaching practicum that includes a 23 day practicum in the Bahamas, and
4. A multi-faceted creative year-long project. The entire graduate program is built around practical applications and learning to prepare students for lifelong, professional careers.
For an overview of the year click here : Semester schedule.
Learn more about these four components by clicking on the links directly or the tabs on the left.