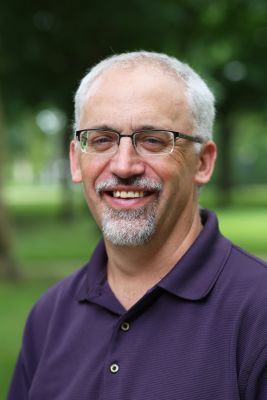 Professor of Biology
---
What drew you to want to teach at Goshen College?
There are few academic communities as committed to understanding our connections to the world — I am surrounded by students and colleagues who are passionate about improving our world.
What do you love most about teaching GC students?
I treasure the relationships I have built with students via leading Study-Service Term units to Tanzania, taking research excursions to Kenya, or exploring the coral reefs at our field station in the Florida Keys.
What excites you about the subjects you teach?
Goshen students come to not only learn about their world, but to change it. They inspire me.
What do you enjoy doing outside of your academic work?
Restoring prairies, traveling and camping with my family, and playing volleyball.
How does the college's vision connect or shape your teaching and work?
Born in Kenya, I have lived in and around Nairobi for more than 10 years as a child. My wife Donna and I returned to Laikipia, Kenya for 2 years for me to complete my Ph.D. field research. Since then I have taken Goshen students to Kenya on multiple occasions to study conservation biology with Kenyan undergraduates. The opportunities to connect students with communities around the world — and together work towards peace-filled and sustainable solutions to the world's challenges defines many of Goshen's commitments.
How do you strive to make peace through your work and life?
Peacemaking begins with understanding our world and our connection to it — promoting peace is increasingly about caring for ecological systems on which humans depend.
Is there anything else you would like prospective students to know about you?
Come be inquisitive — ecology and biology are mostly about asking creative questions and then persisting until answers emerge. Science is a creative journey, not a body of information.