Laura Hochstetler Class of 2018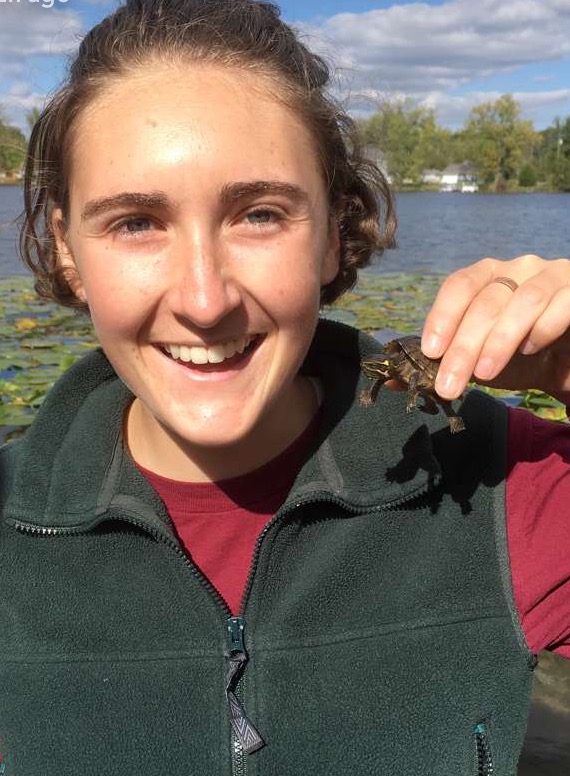 Who studies sustainability at Goshen College? Meet Laura Hochstetler, Wellman, Iowa.
Laura is the kind of person who thrives at a liberal arts college. She has many interests and has combined them into an interdisciplinary major with areas of concentration in music, sustainability studies and entrepreneurship. Meanwhile, she is pursuing an environmental science minor on the side.
Laura is sensitive to the beauty and wonder around her in many forms. When she first encountered Goshen College, she fell in love with the college's Christmas concert, the Festival of Carols. In environmental science courses, she marveled at what happens under the ground. And on a canoe trip with Merry Lea's Sustainability Leadership Semester, she discovered that exploring a community by water rather than by land gives one a completely new perspective.
Imagining a Place of Hospitality
Even when not in college, Laura's life is a series of interesting juxtapositions. She spent part of a gap year working in a nursing home in Iowa and the remainder working on an organic farm in New Zealand and learning about eco-tourism.
The latter experience helped shape one of her future goals: to own a bed and breakfast that models hospitality and educates about urban farming and other sustainable living skills.
"I'm a reflective person, so I also see it as a space for retreat," Laura adds.
Laura had a chance to play with this vision in the Faith, Ethics and Eco-justice course she took as part of Merry Lea's Sustainability Leadership Semester. In an assignment that pushed students to articulate their values, Laura used her dream home to help describe what matters to her.
People and Community over Personal Goals
The course approached development of values in a number of ways. For another presentation, students each chose a religious faith and researched the positive resources that this tradition brought to caring for the earth. One idea that Laura gained from reading about Zen Buddhism is that one does not become enlightened by pushing oneself, but rather by letting go of self.
"When I think about society, and how we are driven by personal goals, I think that also creates a disconnect from the environment and other people," Laura says.
Exploring connections between one's spirituality, the human community and one's place are things Goshen College's Sustainability Studies major does well. Whatever unfolds in Laura's future, it sounds like her place and the community of people around her will receive her full attention.