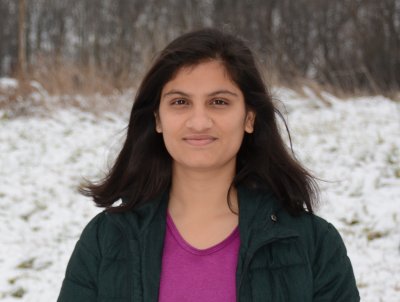 Mandira Panta, a junior sustainability studies major from Kavre, Nepal, chose Goshen College partly because she wanted a liberal arts education. In her country, it is typical to plunge directly into a specific field, but Mandira wants a future that includes both science and social science perspectives. She thought that a liberal arts education would help her identify the kinds of jobs that would work best for her.
However, it was Merry Lea's Sustainability Leadership Semester (SLS) in particular that wooed Mandira to Goshen College. The interdisciplinary program includes many unique experiences that range from touring a water treatment plant to discussing state-level policy with the director of the Indiana Department of Environmental Management.
Building a labyrinth
During an SLS course entitled Sustainability and Regeneration, Mandira participated in a class project that involved building a labyrinth. Labyrinths are elaborate pathways used for meditation in a variety of traditions. Using bricks salvaged from an old house foundation on Merry Lea's property, the group planned and laid out a circular pathway just south of the cottages at Merry Lea's Rieth Village where students live.
What did building a labyrinth have to do with sustainability and regeneration?
"We used something that was already there to create something new," Mandira says. While the group spent time and effort hauling over 200 bricks in canoes and placing them in a circular pattern in the ground, they spent no money and used no new resources. The idea that the labyrinth might serve groups in the future also gave Mandira a sense that something she helped build would have a lasting impact.
Working with a nonprofit
The SLS includes a problem-solving project where students need to use multiple disciplines in order to succeed. Mandira and a partner worked with the West Lakes Association, an organization that protects a chain of four interconnected lakes near Rome City, Ind. Together, they created a resource that will help the nonprofit identify the sources of pollution and address them.
Creating the resource involved a lot of work with Global Information Systems and the patience to untangle many computer problems. Mandira also needed to track down grant opportunities, consult experts in the field about best management practices and learn about the ways the lake association worked with local farmers. She came out thinking that this is the sort of thing she could see herself doing beyond college.
In the future, Mandira hopes for a life that enables her to travel and learn about different ecosystems. Her next steps include graduate school in natural resource management with a concentration in watersheds.
"Many of our projects were based on water. I realized how vital water is and how critical management of watersheds is," she says.