This page is intended to be a resource for students who are using the lab to complete assignments for ASL courses in which they are currently enrolled. Below you will find pictures of the lab, written instructions, and video tutorials for using the equipment in the rooms.
Instructions:
Recording yourself with QuickTime     (Alternate Link)
Important Settings:
Make sure your sound input is "HD Pro Webcam C920". To change that open System Preferences then click on Sound.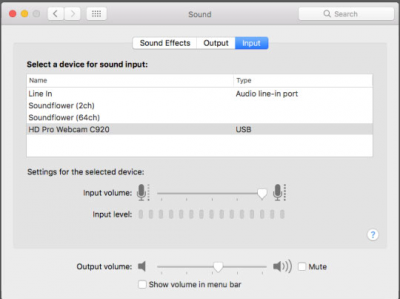 Recording the computer screen for assignments using QuickTime:
Recording:
1. Open QuickTime.

2. Click File at the top of the screen, and choose "New Movie Recording"

3. Open video you are interpreting from
Then arrange the two video windows to your preference

4. Go to File again, and select "New Screen Recording" a new window with a red button will appear.
****Before you go any further click the tiny arrow next to the red record button, the select the one that says webcam*** This will record the audio.

5. Click the red button, then click and drag around the area of the screen you want to record.

6. Click start record when you are ready.

Saving and Exporting:
When you are finished recording:

1. Near the upper right hand corner of the screen you will see a tiny circle with a square in the middle, click that to stop recording.

2. Click File again, and choose Save.
Name the file, and save to the desktop so you can find it easily.

3. Open your saved movie with QuickTime. (Don't even bother with iMovie since it was giving us so much trouble yesterday)

If you do not need to edit the video skip to 7.

4. Drag the playhead (line that shows where in the video you are) to where you want the video to start. (Or end if you need to trim the ending)

5. Click Edit (located next to File) then select "Split Clip"

6. Your video should now be split into two parts, delete the one you don't want.

7. Now click File again, select "Export", then select 720p. (Theres no problem with 1080p. But for the purpose of these videos 720p will work fine. I don't recommend lower than that though.)
***Make sure you save it to the desktop again and name the file appropriately.