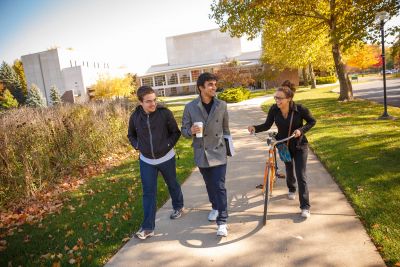 Your Next Steps
Have some social media fun! Join the "Goshen College Class of 2022" Facebook group to connect with your future classmates.
Send a copy of your passport information page, including photo, to admissions@goshen.edu.
Submit a completed and signed Goshen College Student Financial Aid Application along with supporting documents. This documentation verifies both a willingness and ability to pay the amount of money required to attend the college.
Once the financial commitment has been approved by the Admissions Office:
The Admissions Office will prepare your I-20 and mail a printed copy, along with your admit packet, financial aid packet, and International Student Welcome Guide to you.
Review the International Student Welcome Guide.
After receiving your electronic copy of your I-20, pay the SEVIS I-901 fee. For more information on this fee, please click here.
Schedule an appointment with an embassy or consulate to obtain a visa and receive additional information.
Forms to complete:
Arrival details and important dates for NEW international students. (Returning students arrive with other returning students.)
We request that you arrive to the campus no later than Thursday, Aug. 23, 2018. You will be able to check into your room and settle in on that day. Athletes will arrive on campus earlier than Thursday, Aug. 23. Your individual coach will be in contact with you regarding your arrival.
Tuesday, Aug. 21 – Thursday, Aug. 23 — Arrive on campus
Thursday, Aug. 23 (evening) — Welcome party for new international students
Friday, Aug. 24 — International Student Orientation (mandatory/required)
Saturday, Aug. 25 — New Student Check-in (mandatory/required)
Sunday, Aug. 26 — Orientation for all new students (mandatory/required)
Get ready for Goshen!