How to log into Moodle and access the online orientation course.
One of the required components of orientation is the online orientation course. The course can be accessed from Moodle, our learning management system or LMS. Moodle is where you will find information on the courses you've registered for, along with other important information for students.
1. Go to https://moodle.goshen.edu to access the course. You'll be prompted to sign in with Google using your GC email address.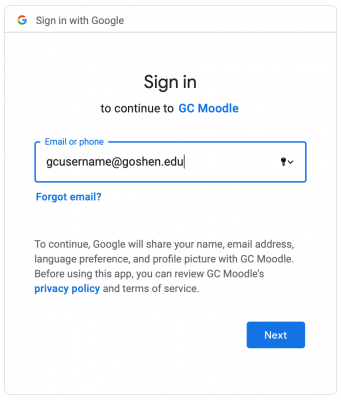 Can't remember your GC username? Contact your Admissions Counselor (or admissions@goshen.edu) for assistance.
Can't remember your password? Click on this link to reset your password.
2. Next, login to the Single Sign-On (SSO) page using your GC username and password.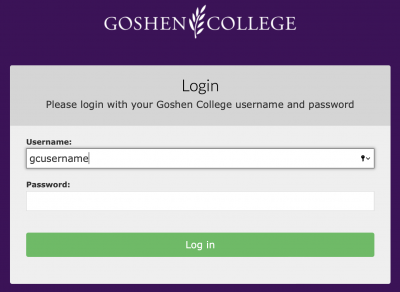 3. Once you've logged in to Moodle, look for the course titled Online Orientation- FA2223 and click on the course title.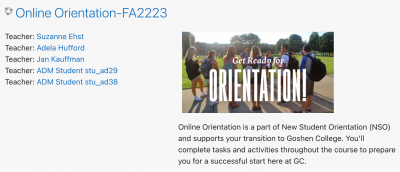 4. No matter when you deposit, begin the course with the "START HERE" tab and follow the instructions. New content is released at the beginning of each month.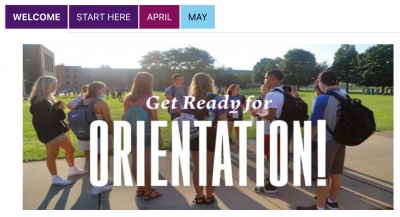 What you'll find in the Online Orientation Course by month:
April (now available)
How to Complete Forms
Accept Your Financial Aid
Complete Student Life Residence Form
Register for New Student Orientation
May (now available)
Set Up a Plan to Cover Your Balance
Select a Math Course
Take the Language Placement Test (optional)
June (now available)
Submit Your Final Transcript(s)
Parent Access
Preparing to Pay for College
Submit Your Financial Responsibility Agreement
Complete the Confidential Health Form
Submit the iPad Agreement Form
July
Complete Course Registration
Purchase Your Textbooks
Academic Services
Submit a Disability Accommodation Request Form (optional)
August
Final Check of Estimated Bill
Completing the Personal Information Update (PIU)
Submit the Emergency Contact Form
ID Cards
Register Your Vehicle
Complete the Online Student Life Modules
Questions about orientation or the online orientation course? Email orientation@goshen.edu or call or text (574) 535-7706 with your questions.