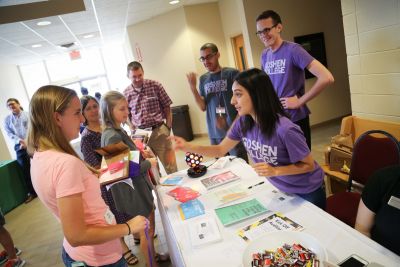 New first-year students begin their transition to Goshen College by participating in New Student Orientation (NSO).
Transfer students: (students with more than 16 college credits) do not sign up for New Student Orientation. You will work with the Transfer Advisor to schedule your advising and registration appointment.
Registration for the June 22, 24 and 25 NSO dates is now closed. Students can now register for a virtual New Student Orientation experience that will open on June 27.
Click here to register for virtual New Student Orientation (NSO). This is a Google form and you will need to be logged in with your GC email address in order to access. You will also need to know your GC ID to complete the form.
Part of the registration process is selecting a Wednesday in July for your registration appointment.
On Monday, June 27 a special section in the Online Orientation course will open where you'll view a series of short videos to complete your NSO requirement. In the meantime, log into the course and begin the other required tasks to prepare you for Welcome Week in August.
Click here to download a PDF version of Orientation Tasks & Important Dates