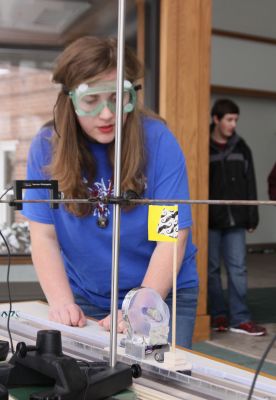 Teams from area middle and high schools will gather on the Goshen College campus on Saturday, February 13, 2016 to compete in a Science Olympiad Regional Tournament.
Modeled after the Olympic games, participating schools field teams of 15 students who compete in 23 science events at invitational, regional, state, and national competitions.  Some events require students to build a model bridge, machine, or protein that they demonstrate.  All events require students to exhibit their knowledge of science in an applied manner.  Goshen College students, faculty, and staff, and members of the local community serve as judges and volunteers.
The annual Science Olympiad began in 1983 and involves more than 12,000 schools nationally. For more information, see the links below or contact David Housman, Professor of Mathematics and Computing, at dhousman@goshen.edu or (574) 535-7405.
Goshen College Scholarship
Goshen College will award participants in its C-Division Science Olympiad Regional Tournaments a four-year renewable scholarship to attend Goshen College. The scholarship will be $500 annually for participants in one C-Division Goshen College Science Olympiad Regional Tournament and $1000 annually for participants in two or more C-Division Goshen College Science Olympiad Regional Tournaments. This scholarship will be in addition to any other merit-based scholarship the student is awarded. Participation will be determined by the team registration lists submitted the mornings of the competitions starting in 2016.
Schools/Teams
Division B (grades 6-9)
Bethany Christian Schools
Boston Middle School
Goshen Middle School
LaSalle Intermediate Academy
Manchester Jr/Sr High School (2)
Northridge Middle School (2)
Division C (grades 9-12)
Bethany Christian Schools
Columbia City High School
La Lumiere School (2)
LaPorte High School
Manchester Jr/Sr High School
Mishawaka High School (2)
Northridge High School (3)
Riley Jr/Sr High School (2)
Note: 3 Division B schools and 4 Division C schools will advance to the state tournament. An additional team from each division will advance to the wild card tournament.
Results
Registration Forms and Slides
By 8:30am on the day of the tournament, each team must submit completed Code of Ethics and Information forms, and each team member, coach, and volunteer must submit a completed Release form.  All forms are in pdf format, and the Information form is fill-able.
Registration Code of Ethics Form
Registration Information Form
Registration Release Form
By Tuesday, February 9, coaches should sign up for events with multiple starting times by editing the the Google sheet whose link will have been emailed to them by Monday, January 25.  Contact dhousman@goshen.edu if you are having difficulties.
By Wednesday, February 10, coaches should send any pictures or graphics they wish to include in their school's welcome slide.  Below is a copy of the welcome slides that were used last year.
Local Information
Schedule and Team Homerooms
Event Information
Map and Directions to Goshen College
Campus Map and Food Options
Links
News Release
National Rule Clarifications
Indiana Rule Clarifications
National Science Olympiad
Indiana Science Olympiad
2015 Goshen Regional Results
Gold Sponsors


Sponsors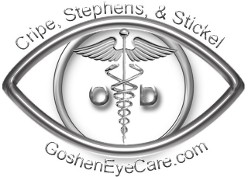 ---
Biology | Chemistry | Computer Science| Environmental Science | Informatics | Mathematics | Physics | Goshen College