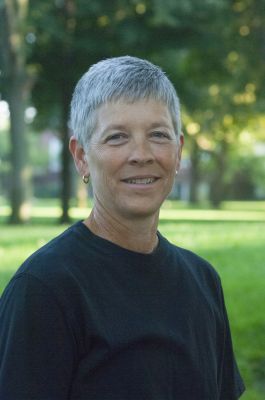 Associate Professor of Kinesiology
---
What drew you to want to teach at Goshen College?
I grew up in the Mennonite Church and attended Mennonite colleges. I have a respect and appreciation for Mennonite higher education and learning. After I finished graduate school, I felt fortunate to find a position here at Goshen College that was a good fit for me. My career path has changed occasionally over the years, but the teaching aspect has never changed. Teaching others is a fulfilling career and I have enjoyed that role very much here at GC.
What do you love most about teaching GC students?
Goshen students are very diverse. It is fun to get to know students who are from other countries and traditions. Students are involved in many extracurricular activities here at Goshen, such as music, opera, athletics, clubs and theater. In the classroom they are intelligent, thoughtful, hardworking individuals to teach. It is a joy to come to work every day.
What excites you about your work?
In Wellness class, I challenge students to take steps in finding something they enjoy doing, because if they have fun doing their workout it will carry over into later adult years. If they don't enjoy running, they probably won't do that for very long.
I also teach many of the activity and skills classes here at GC. These are fun classes that anyone can take. These classes can serve as a stress outlet or they can help students to find a lifelong activity that helps them stay active for many years after graduation.
History of sport, coaching, sport management, athletic training and outdoor education are all subjects that I enjoy learning about and teaching to students. There is a lot of research to suggest that movement can improve learning and help us live healthy, long lives.
What do you enjoy doing outside of your academic work?
My interests are varied! I love the outdoors — hiking, fishing, canoeing and bird watching. My two favorite sports are golf and badminton although I enjoy many different types of sports. I also enjoy spending time with my family, traveling and reading.
How does the college's vision (international, intercultural, interdisciplinary and integrative) connect or shape your teaching and work?
I have traveled to many different countries before coming to GC and I continue to travel to other parts of the world. Traveling and making friendships with others from various cultures is fascinating to me. From time to time, my classroom is a mini Study-Service Term experience right here on campus. These are important learning opportunities, where students can ask questions, find common ground (or differences), and have discussions around food, religion and culture.
How do you strive to make peace through your work and life?
Communication is something that I think we always need to work toward in terms of understanding one another. In our days of high-tech living, with text messages, emails and social media, the face to face conversation is a changing landscape. I am trying to make peace with healthy ways of communication and being present in our high-tech world.
Is there anything else you would like prospective students to know about you?
I am an approachable person. If someone has a question about a career in our field, or if someone wants to learn how to do something specifically in our area (e.g. learn how to lift weights or play racquetball or anything related), I will help them out. Just come by!