Associate Professor of Kinesiology
Education
B.S., Eastern Mennonite University, 1984
M.S., James Madison University, 1996
Contact
(574) 535-7494
Rec-Fitness Center 101G (map)
Read interview with Val Hershberger.
Activity Classes
Aerobic Conditioning
Badminton
Cycling
Golf
International Folk Dance
Racquetball
Swimming
Tumbling
Volleyball
Weight Training – Co Ed
Weight Training – Women
Wellness for Life – General Education
Majors Courses
Introduction to Kinesiology
This class provides an introduction to the field of Kinesiology and includes an overview of the history of physical education, sport and Kinesiology. The time line begins with early civilization and continues through modern events including the Olympics. Additionally, a variety of philosophical approaches and their implications are discussed.
First Aid/CPR
Introduction to first aid, practical experience in basic first aid skills, first aid for specific sport injuries and a practical guide to sport related to liability. Successful completion results in certification for two years.
Basic Athletic Training
Valuable for anyone who plans to coach or pursue further certification in athletic training. Topics include: evaluation and management of injuries to the head, shoulder, elbow, hand, hip, knee, and foot. Additional topics include: adverse weather conditions, rehabilitation, emergency situations, recognizing different sport injuries, and helping the injured athlete psychologically.
Sport Management
A focus on administrative practices in the areas of legal responsibility, personnel, finance, public relations, equipment, and facilities. Issues related to youth sport, high school, collegiate, and professional sports are discussed. Sociological and psychological issues related to leadership roles in sport are also included.
Theory and Techniques of Coaching
This course presents an overview of basic theories and coaching applications, including topics such as; philosophy, psychology, ethics, coaching diverse athletes, current training techniques, practice and game preparation.
Camping and Recreation – Boundary Waters Canoe Area Wilderness
Students will have a hands on learning experience along with an interdisciplinary approach. They will learn a variety of skills including: Canoeing safety and paddling skills, equipment selection, trip planning, map and compass, food selection, preparation, environmental care and study, spiritual growth and leadership skills. This course is  two weeks, with the first week spent at Wilderness Wind in Ely, MN in classroom and orientation sessions. The second week is a seven day wilderness trip in the BWCA along the US/Canada border in pristine wilderness. The next time this class will be offered will be May of 2017.
Last May I participated in the Course Development Institute along with Paul Keim. Together we are co-teaching the Religion and Sport class this coming fall (2017). Paul Keim developed this course for the new General Education program. He has taught the class for the past two years. I am looking forward to collaborating with a professor from another area and looking at how these two very different disciplines intersect. This class continues to be a very popular perspectives course with students from various majors and I am looking forward to working with Professor Keim.
Elkhart River Adoption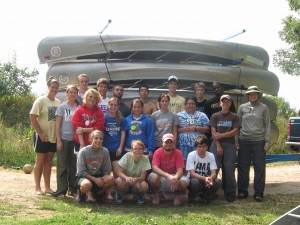 Every fall for the past ten years the Kinesiology department organizes a group of students to remove trash from a six mile stretch of the Elkhart River between Roger's Park and Oxbow Park.  This year, twenty-two people canoed the river pulling small and large items from the water.  We removed about 25 tires, 6 big garbage bags of recyclables, fiberglass, appliances, bikes, toys, batteries, and many other items.
 Hi-Line Golf Course
For the past five years, along with Dr. John Ingold, we have maintained the three hole golf course located to the south of campus. Due to budgetary restrictions the college no longer maintains the course. In 2013, we were able to obtain a 2000, Toro greens mower which was needed to replace the older Jacobsen. This machine keeps the greens in perfect condition and is much easier to operate.  We have replaced older signage and the old backstop was removed. We continue to clean up brush along the railroad tracks. The course is currently in excellent shape to play golf and work on that short game.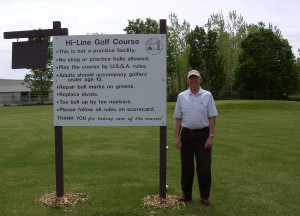 American Red Cross First Aid and CPR Training
For the past several years I have taught  First Aid, CPR/AED courses to area community members in Elkhart and Lagrange county. Many teachers and health services individuals are required to carry CPR and AED certification. It has been fun meeting new people in the community and at the same time passing along valuable training that might assist in saving someone's life.
Groups that are certified each year are the graduate students at Merry Lea, Umble Center staff and Sauder Hall staff.  Currently there are classes for the Goshen College Education department to certify all new teachers each spring preparing them for their fall student teaching assignments.
AAHPERD – American Alliance for Health, Physical Education, Recreation and Dance
IAAHPERD – Indiana Alliance for Health, Physical Education, Recreation and Dance
NSCA – National Strength and Conditioning Association
Certifications
WSI – Water Safety Instructor – American Red Cross
First Aid/CPR/AED Trainer Instructor – American Red Cross
First Aid/CPR/AED – American Red Cross