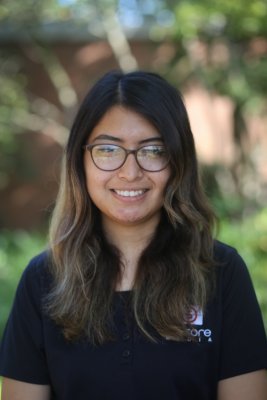 Hometown: South Bend, Indiana
Major: film production, art
Why did you choose Goshen?
Goshen was not originally on my list of colleges but I really liked it when I came to visit. I enjoyed the tour and getting to meet the staff. I chose Goshen College because students are given several opportunities to get hands-on experience that will help them with their careers.
Why did you choose your major?
Since I was a kid, I have always loved films because they are a great way to bring people together. They can affect people and can create great opportunities.
What career are you interested in pursuing?
I am still unsure about what career I want to pursue, but I am open to working in any area of film. I would also enjoy working as a concept designer for an animation company.
What is a valuable experience that you have had at Goshen?
Filming my short film for Digital Media Production II and going to the many filming shoots with FiveCore Media were valuable experiences. Because of the short, I was able to learn more about the stages of filming and it was also a lot of fun. Through FiveCore I was able to see how it is to work with clients and as a company. Both were great experiences that taught me a lot!