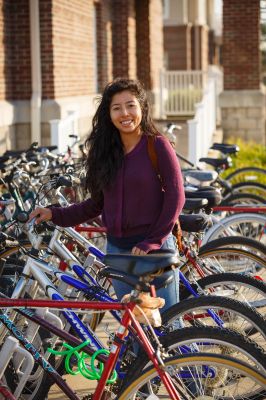 Noemi Salvador, a 2017 junior peace, justice and conflict studies graduate from Quito, Ecuador, hopes that she will be able to raise awareness about environmental issues in Ecuador.
What do you like most about Goshen and why?
I like that the college offers you the opportunity to be who you want to be and reach out to the world. The environment, the people, the ideals and the values all contribute to reinforcing everyone's best self. At Goshen, people are compassionate and take a stand against injustice.
Why did you choose to come to Goshen College?
I originally chose Goshen College because of its excellent environmental science program. Of course, without its core values, my decision would have been different; the core values really reflect what I want to live up for. I want my career to be a bridge for serving not only my country, but also the world.
How has Goshen College influenced your faith or worldview?
I now have a fuller idea of what God means and God's incredible power to transform lives. In my country, religion means oppression. Religion is often used as a weapon to rule over the poor rather than to empower the people. While at Goshen College, I've learned that religion can actually be empowering. What I value most is the opportunity we have to reach out during the college's annual service days. It is an experience I have fallen in love with.
What do you hope to do with your degree?
I hope to help inspire my country to develop a new way of managing the environment. If we don't change the pattern of how we treat the environment, then we will need to start looking for another planet to live on. I want to help prevent environmental degradation and restore the environment through education and art. When you teach a child—or a person of any age—to have respect for the earth and all the creatures on it, you are building compassion.
What advice would you give a prospective student?
Think about what you want your footprint on this planet to be. Then, think of the many ways Goshen College can help you be that person. Something special happens here everyday, and it's because of the college's commitment to make this world better through its students. If you are an international student, life can be a little bit like a roller coaster, but I traveled 24 hours from Ecuador to get an education, and it has been worth it.
What has been an influential experience at GC for you?
I was interviewed for a project that was trying to expose an Ecuadorian oil-spill. It was threatening life in the Amazon and the existence of many indigenous tribes. In this experience, I was able to share about environmental problems to people from the college and from other countries. I think it is very valuable and powerful to heal through sharing stories, and Goshen College provides opportunities for that.