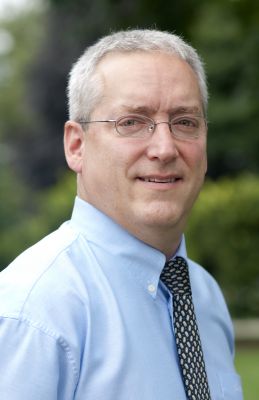 Associate Professor of Business
---
What drew you to want to teach at GC?
I joined Goshen College because I wanted to teach business in a setting where you could have meaningful interaction with your students due to a smaller class size. The college's core values also appeal to me and I believe that a liberal arts education is a strong foundation for a career in business. After 20 years working in various countries, companies and industries, I wanted to share with students some of the excitement and adventure that a career in business can offer.
What do you love most about teaching GC students?
I enjoy teaching students who are curious, who want to explore the amazing complexity of life and try to "connect the dots." Most GC students are passionate about learning and want to expand their understanding of the world. They tend to have an optimistic outlook on life as well as a strong social conscience. The journey of discovery is much more pleasant (for both students and professor) when all have a shared interest in the outcome.
What excites you about business?
Business is all about people and how people interact with each other. People are dynamic and so is the field of business. It is constantly expanding, changing and integrating ideas from other areas of study. Business is also a tool and a powerful platform for impacting people's lives and the communities in which they live. It is a complex field of study, as deep as the human psyche, as well as a very practical one. The knowledge and skills learned in business are applicable in many other areas of life. But most of all — at least for me — it has been a great adventure. It is a rewarding field and can be a challenging and exciting career.
What do you enjoy doing outside of your academic work?
I am also a family business advisor and I work with family-owned businesses to help them plan and prepare for transitions in their organizations. It's a lot of fun, and I get to work with some great people and some interesting businesses. When I'm not working, I enjoy traveling, getting out into nature (hiking, camping), and reading, especially books on history or science topics. I have two children who keep me pretty busy too!
How does the college's vision (international, intercultural, interdisciplinary and integrative) connect or shape your teaching and work?
The college's vision is ideal for the business world, as modern business is ALL of these things. As such, this vision greatly influences my teaching, and these elements have been key components of my previous 20-year career in business, most of which was carried out in an international setting. To be a successful manager in today's business world, you need to be able to work well in multiple cultural settings and be able to integrate knowledge and skills from a variety of fields to solve complex business issues. Goshen College provides students with opportunities to learn and practice these intercultural skills and to integrate and apply their knowledge in the resolution of complex problems and challenges. This is great preparation for the business world and for life beyond college.
How do you strive to make peace through your work and life?
We all make ripples in the world around us. These ripples arise from what we do and say, and from what we don't do or say. Our ripples can be positive and constructive, or they can be negative and destructive. Ripples are rarely neutral and innocuous. Though our ripples may appear small, they can spread over time and become waves that have a large and lasting effect. I try to make positive ripples whenever I can.
Is there anything else you would like prospective students to know about you?
I am addicted to learning and I love trying to "connect the dots" that lead to greater understanding. I also love sowing the seeds of curiosity in fertile soil (so watch out!). But I do take occasional breaks for humor…