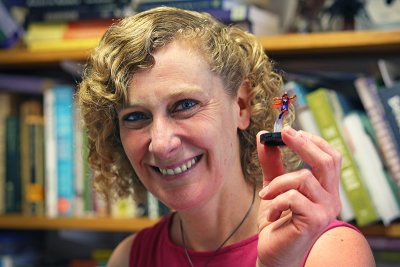 Professor of English, Department Chair
What drew you to teach at GC?
So many things! I appreciate teaching at a small college with a strong vision for supporting and improving local and global communities. My husband is a GC graduate, so that's the logistical reason that GC showed up on my radar. The commitment to nonviolent activism also resonated with my own sense of purpose in the world.
What do you love most about teaching GC students?
They love to learn, and they love finding ways to apply what they've learned to real solutions. I also love that they're not shy about speaking up and suggesting improvements in the classroom and beyond.
What is your favorite teaching moment at GC?
I've been here for a long time, so it's very difficult to pick out one moment! The common thread in the many teaching moments that have stuck with me is when students work together to create something beautiful, whether it's a Pinchpenny Press book, the Red Cents literary arts magazine, or an event where they invite outside people to hear what they've written in class.
How do you incorporate GC's core values into your lessons/classes?
The beautiful thing is that I don't have to: students bring the core values into the classroom almost by instinct! I suppose we attract learners, leaders, peacemakers and global citizens in the first place, so that I don't have to think too hard about how to instill those values, and we can just get going on the project of how to put them to use in the world around us.