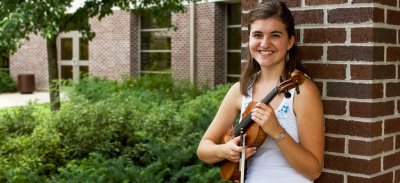 Hillary Harder, a music and Spanish double major from Wichita, Kansas, is a musician, peacemaker, ministry leader and lover of teatime and one-on-one talks. She graduated in 2015.
Why Goshen College?
Hillary is the daughter of two pastors, but music was her primary motivation when it came to picking a college.
"I came to Goshen because of the music program and facilities. The professors are not only incredibly talented and superb in their fields, they also take the time to get to know their students as people and create an environment of collaboration, not competition."
As it turns out, it was a pretty good decision.
"I have taken private lessons on violin and voice, participated in the orchestra and choirs, played in chamber groups, and played and sung for countless recitals, shows and gigs. I can't overstate how grateful I am for these opportunities, which are possible because of Goshen's excellent program and attention to individuals. "
What makes Goshen different?
Besides enjoying the music program, Hillary found that she appreciated campus life.
"The warmth on campus, the sense of purposeful learning, the personal connections with professors, the global awareness and the overarching faith perspective. GC is a wonderfully diverse campus: we benefit from the presence of international and intercultural students as well as American students, Mennonite and non-Mennonite."
Because, she said, GC is all about relationships.
"Whether with my friends, my professors, the dining hall employees, the girls on my floor in the dorms, people I meet in class, people I pass on the sidewalk – it's possible to form connections with anyone and everyone at Goshen. I loved connecting with people through our weekly teatime, prayer nights and talks one-on-one."
What has Goshen done for you?
Although Hillary is finding success in her major, GC's approach to areas like faith and peacemaking won her over, too.
"Being at Goshen, my faith has been nurtured and has grown through everything from casual conversations with my friends to worship services to discussions in class – and that's not just Bible and religion classes. I have loved being part of a student body that is so oriented towards peace, social justice and environmental concerns. GC students don't just talk about working for peace, they actively dedicate themselves to working for things they care about, whether on campus, in the community or on a larger scale."
In addition, for her Spanish major, Hillary spent two semesters abroad in Spain and Nicaragua.