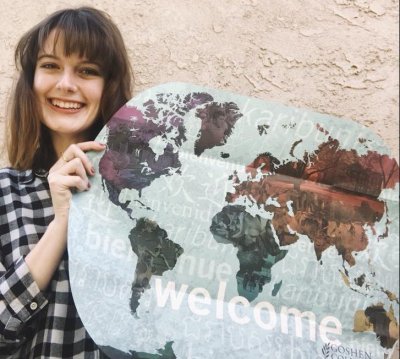 By Abby King '20
When Hannah Cole decided to attend Goshen College to finish her degree in American Sign Language education, she didn't expect the rest of her family to follow her to Indiana.
But the Cole family — made up of Hannah, her two parents, Jeramy and Christina, and two younger brothers — needed a change from their life in Huntington Beach, California.
According to Cole, the family wanted to live within a tight-knit community — something they hadn't found in Huntington Beach.
And so in July, the family of five packed up all of their belongings and drove for 10 days from Northern California, over the mountains in Arizona and Colorado, through the Great Plains and eventually made it to Indiana, a trip that would mark the beginning of the family's lives as Midwesterners.
An immediate welcome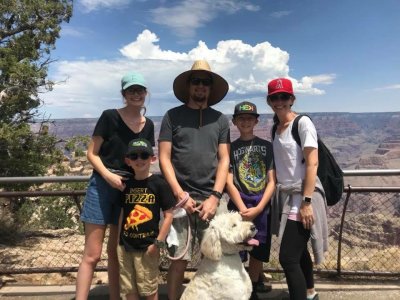 Once they reached their house on 8th Street in Goshen, Cole said the family felt welcomed right away. She said her neighbors were quick to introduce themselves — four families came over to welcome the Coles as they unpacked their moving van.
"There's actually a community here and that's not something we've ever had before as a family," she said.
Along with the friends they've made on 8th Street, the Cole family has found meaningful relationships with people from their new church, Sugar Grove Church, as well as work and school.
Cole said that she plans on "diving" into the Goshen College community.
Fortunately for Cole, her new home is a short four-minute bike ride from GC, making it easy for her to spend time on campus and get to know her classmates. After living 20 minutes from her community college in Huntington Beach, Cole is glad to be so close to her new school.
Finding Goshen
Much like the Cole family's path to Indiana, the way Cole discovered GC was a little unusual in comparison to most.
During a gap year in Canada, Cole scoured the internet for a college to attend after earning her Associate of Arts. Because of her close proximity to Indiana, one of the first colleges Google recommended was Goshen. But when searching for schools while in California, only state states would appear, said Cole.
Her first visit to the campus was the day after Thanksgiving. Most students, faculty and staff had left for the holiday, leaving the campus bare. With a drink from the Electric Brew in hand, Cole walked around the campus and pondered the possibility of joining the community and becoming a Maple Leaf.
According to Cole, her initial semester at GC has started off on the right foot. For the first time, she's eager to do her assignments and learn about ASL and education.
She said that has to do with her encouraging and passionate professors — she specifically cited professors Amanda Flickinger, Colleen Geier, professors of ASL, and Suzanne Ehst, a professor of education.
Cole commended Flickinger and Geier for their passion of "bridging the gap" between the Deaf and hearing communities — a passion she shares.
Falling in love with ASL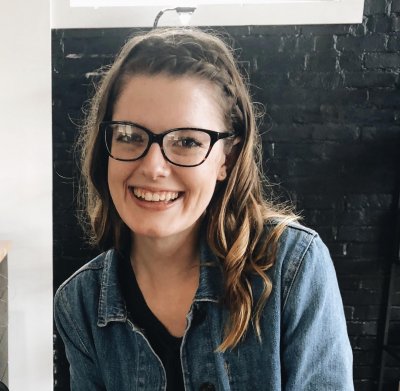 But according to Cole, she wasn't always so excited about ASL.
In fact, Cole said her love for ASL began with a what she described as "not wanting to do what everybody else did."
During high school, she was required to take a language course. But she didn't want to take Spanish like all of her peers, so she convinced one of her teachers to teach an ASL course. There, she learned the basics, but wasn't charmed by the language quite yet.
A few years later, when she entered community college, ASL was offered and she took it with the hopes of an "easy A." But this time was different. Her professor saw talent and encouraged her to pursue the language. And so she did.
It took a little persuasion, but Cole quickly fell in love with the language and the idea of bringing two separate communities together.
She often asks herself "How can I get involved in [the Deaf and hearing] communities?" and "How can I make a difference?"
"If [making a difference] means teaching Sign Language to people so that they can start bridging the gap, that's something I want to do," she said.
While she hasn't known Cole for too long, Flickinger said that Cole is a hardworking student and continues to push herself to develop her signing.
Additionally, Flickinger said, "[Hannah] is such a sweet individual with high potential to become a great teacher and for those reasons, I am pleased she is in the ASL [education] program."
Cole's in her last semester of learning ASL — a fact that brings her pride and a little sadness.
"I wish I could keep going," she said.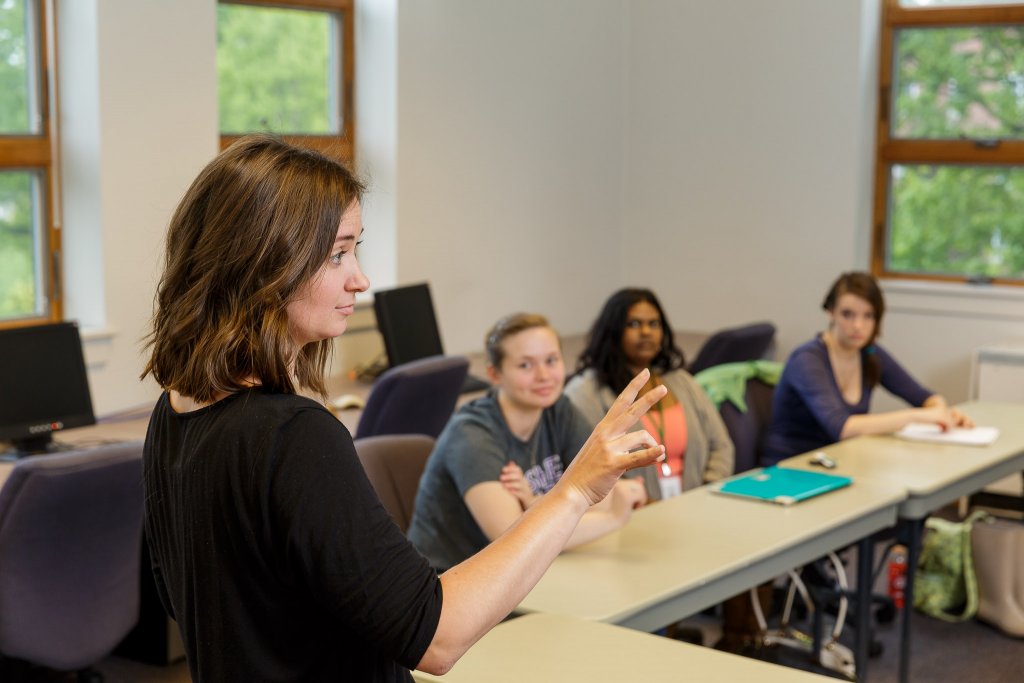 But Cole's excited to begin diving into her education courses. She said she always had trouble deciding between majoring in ASL and education. Fortunately for Cole, she doesn't have to choose at Goshen College.
Ehst said Cole is a great addition to the college's education department.
"Hannah has a clear passion for sign language and for the deaf community," said Ehst. "In her education classes, her knowledge and experience helps future teachers think about the steps they can take to create more inclusive classroom environments."
Many opportunities still lie ahead for Cole. Next semester, she'll begin her student teaching. And in the fall of 2019, she'll travel to Washington, D.C. for a semester "abroad."
Cole will spend a semester at Gallaudet University, the world's only university specifically for deaf and hard of hearing students. Cole said it that was one of the main things that drew her to GC.
While she's excited to spend the next two semesters pursuing her dreams of teaching and signing, she acknowledges that she'll be off campus much more often come spring semester.
And so, for now, Cole's main goal is to immerse herself in the GC community which shouldn't be too hard from her house on 8th Street.