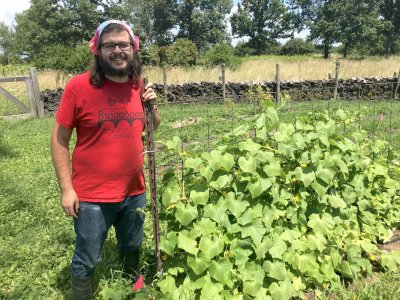 Stephen Lowe approaches agriculture with an appreciation for the complexity of the profession and an educator's eye.
A rising junior from Harrisonburg, Va., Stephen intends to graduate with a music major and a minor in agroecology. He hopes for a bi-vocational future that includes teaching music during the school year and time for farming in the summer. Taking the Agroecology Summer Intensive at the Merry Lea Sustainable Farm was one way to find out if this could work for him.
"Society sees farming as simple man's work, but it takes a lot of knowledge and skill and precise timing. It takes a lot to farm healthily for both the earth and humans," Stephen says.
One example he offers is a tip he picked up from a field trip to Seven Sons Farms, which sells pasture-raised meats. Nutrient levels in grass peak mid-morning. Cows eat a lot the first two hours after they move to fresh pasture. Therefore, it is best to move them between 10 and 11 a.m. Who knew?
Farming with education in mind
One complex challenge Stephen and the other ASI students faced was planning the education garden at the Merry Lea Sustainable Farm. This involved balancing the needs of multiple stakeholders. In the fall, the Environmental Education Outreach Team uses the garden for children's programs, so the cohort had to consider how their plantings would function educationally. What tactile experiences could children have? What might teachers and parents learn? They also had to think about how much time it would take to maintain the garden after they left.
Over the course of the ASI, Stephen became increasingly interested in food justice and food literacy. He was impressed by a curriculum the cohort encountered on a field trip to the Parkview Health's Community Greenhouse and Learning Kitchen in Fort Wayne. The hospital's new endeavor provides cooking classes and gives its community greater access to fresh produce. Stephen could see himself introducing food literacy programs at the schools where he teaches in the future.
Designing a food forest
As a final project, Stephen designed a food forest for the Goshen College campus. "Food forest" is another name for the five acres of woody perennial polyculture (WPP) at Merry Lea. Nut trees, a lower canopy of fruit trees, grape vines and brambles like raspberries all grow together in mutualistic relationships, mimicking a forest ecosystem.
Stephen designed his food forest primarily for food literacy rather than production. He chose a sunny location south of the Kratz-Miller-Yoder dorms and selected about 15 food species that could do well there. Balancing unfamiliar plants like black currants with familiar species was important to him. Since the edges of a forest are the most productive areas, Stephen created a shape with plenty of perimeter. An herb spiral provides easy access to herbs. Paths and signage make the food forest accessible to wanderers.
Stephen's food forest was an educational exercise, not a commission from the college landscaping crew. Whether or not it becomes a reality, it gave him yet another opportunity to appreciate complexity and hone his skills as an educator.