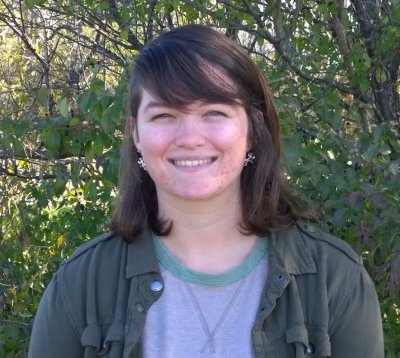 Living in a rural area is a new challenge for some students who take the Sustainability Leadership Semester at Merry Lea Environmental Learning Center of Goshen College, Wolf Lake, Ind. For Rheannon Starr, Merriam, Ind., it is a chance to get a different perspective on her home community which is just ten minutes away.
Even though Rheannon is in familiar territory, Merry Lea's web of connections has introduced her to new places and organizations. Weekly field trips and activities aimed at building hands-on skills frequently rely on Noble County resources. The SLS students visited farms in the area and learned about the use of cover crops. They were also involved in a citizen science project through the Tippecanoe Watershed Foundation that involved testing the water in ditches and streams.
"People around here don't talk about the environment much, so it's been interesting to learn about people I didn't know about in my area who are doing things for the environment," Rheannon says.
A Local Environmental Problem-Solving Project
Local knowledge is a plus for Rheannon as she and a partner plan a project for a course entitled Sustainability Problem Solving. The pair has decided to organize the clean-up of a farm dump on Merry Lea's property on December 1. The task requires communicating the value of this task to a variety of groups, not all of whom would be motivated by the same language. Rheannon is glad to be able to draw on her insight into her home area.
Other challenges the project brings with it include figuring out how to move large pieces like appliances and finding places to take materials that can be recycled. They've thought about recycling some of the scrap metal into a sculpture.
Dialog across differences
An aspect of the semester that suits Rheannon well are the many chances for dialog with people with differing perspectives—both her fellow students and people encountered on field trips.
"One of the reasons I went to Goshen College was to be challenged. What's the fun in going to a college where you think like everyone else?" she asks. She is often able to provide a counterpoint to discussions, bringing out ideas that are unique to her. She says the SLS has helped her view others' ideas as alternate perspectives, not threats.
"We're actually not that much at odds. There's a lot of middle ground. We can collaborate and live in peace with one another," Rheannon reflects.
Rheannon is the first American Sign Language major to join the Sustainability Leadership Semester. The semester is not just for Sustainability Studies majors; it welcomes all majors because of the interdisciplinary nature of the field and the problems it addresses. The block of courses SLS students take weaves together sciences, social sciences, ethics, theology and sometimes the arts.
Rheannon is aware that many interpreters do not have background in the sciences. In the future, she hopes to pair her translation skills with her other love—entomology—and serve as an interpreter in situations where specialized vocabulary is needed.