GC Choirs to present annual EARTHTONES concert on April 16
Concert:  Goshen College Choirs – EARTHTONES: Songs from Many Cultures
Date/Time:  Saturday, April 16, 2016, 7:30 p.m.
Location:  Sauder Concert Hall, Goshen College Music Center
Tickets:  $10 adults, $7 seniors/students. Available online or by calling (574) 535-7566. GC faculty/staff/students free with ID.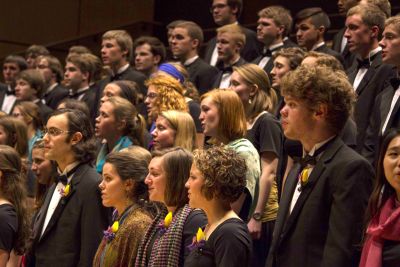 The Goshen College Choirs, directed by Scott Hochstetler and Debra Detwiler Brubaker, will present their annual EARTHTONES concert of world choral music on Saturday, April 16. The concert will begin at 7:30 p.m.
One of the Goshen College's most popular concerts of the year, EARTHTONES will feature performances by the Goshen College Chamber Choir, a mixed choir of 24-30 voices, as well as the Men's Chorus and Women's World Music Choir. The concert repertoire will feature a wide variety of choral music from various cultures and countries, and sung in foreign languages. Invited parents, mentors, and friends will also have an opportunity to sing with the choirs on stage.
Patrons are strongly encouraged to purchase tickets in advance for this concert.