Globe-trotting Students Win National Awards in NYC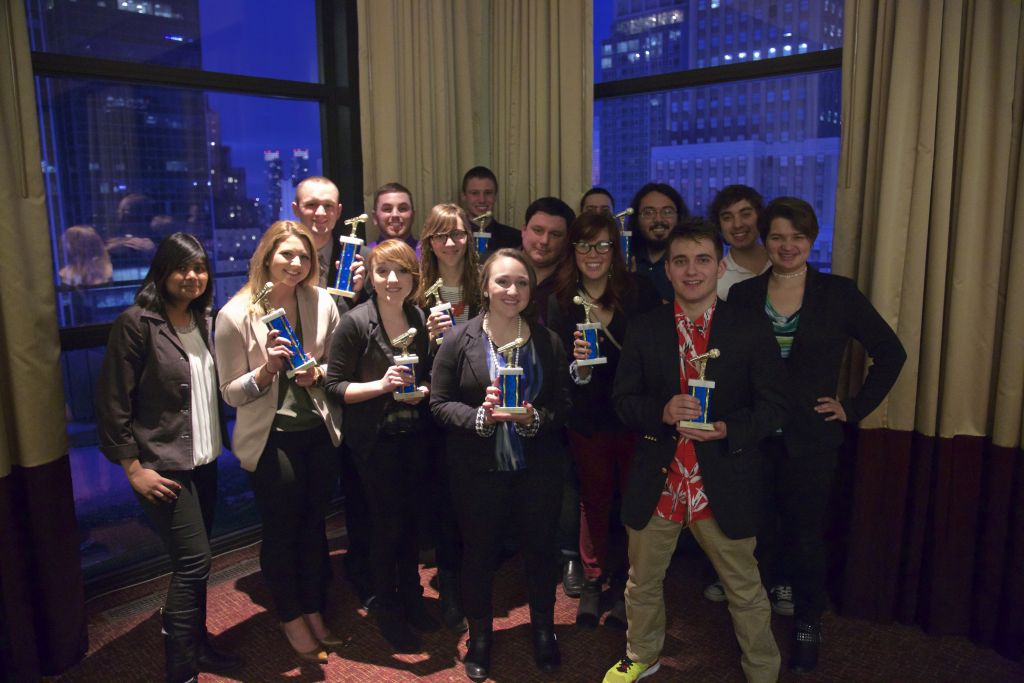 "You came from where?"
"You rode a train for 20 hours?"
"I've never heard of that school."
These are pretty common statements and questions our Goshen College and 91.1 The Globe students and faculty got when they visited New York City this past weekend for the 75th annual Intercollegiate Broadcasting System's (IBS) Conference. As small and unknown as Goshen College might be to New Yorkers, the college and its award winning radio station are the envy of over a thousand students and faculty from around the country who attend the conference. Winning the amount of individual awards and twice in the last four years the Best College Radio Station in the nation is not easy and coveted by many colleges and universities.
This year The Globe General Manager and Assistant Professor, Jason Samuel, brought 15 students to New York City to the IBS Conference. Over the two day conference radio students got to meet peers from other schools, hear from professionals in the broadcasting industry, have their work critiqued and at the end of the second day have the opportunity to be recognized for their work and achievements.
91.1 The Globe received three first place national honors Saturday night at the IBS Awards Ceremony. Goshen College 2014 graduate Tony Miller won Best Basketball Play by Play, Junior Victor Garcia won Best Live Music Broadcast and Junior Ashley Davenport won Best Underwriting Campaign. The Globe was also nominated in six other categories; Andrew Snyder for Most Innovative Program, Danielle Kerschhackl for Best Community New Coverage, Dalton Shetler for Best Sports Update and Davenport for Best Newscast. WGCS staff was nominated for Best Social Media Campaign as well as Best College Radio Station (under 10,000 students).
It may be cliche to say, "it's an honor just to be nominated," but with the third most nominations and a fifth Best College Radio Station in the Nation nomination The Globe is creating a dynasty for itself while garnering national attention. There were over 4,000 entries from colleges and universities with as few as 500 students and some with over 36,000.
One year might be a fluke but when year after year Goshen College students are continuing to be recognized nationally alongside schools from the ACC, PAC 12, Big East, SEC and other large schools it points to something greater going on at little ol' Goshen College. While presenting at a session about how to create an award winning program General Manager, Jason Samuel, explained how winning is not dependent on size or money. Samuel went on to describe the size of our school and how small our radio station's facility was. When he finished a collective gasp filled the room with plenty of open mouths in amazement.
The Globe's success is a direct result of a culture of excellence created by Samuel and the Communication Department. The students buy in and work hard, not just for themselves, but for a greater purpose of learning and making the Globe the Best College Radio Station in the nation. And somewhere along the way they disregard how small the station is or the lack of resources a big school may have. In the end it doesn't matter. What matters is what you do with the opportunities you've been given. The students of 91.1 The Globe have proven this over and over and continue to do so.