Homecoming Weekend Schedule
Celebrating The Globes 60th Birthday
The 60th anniversary celebrations of 91.1 the Globe will continue over the Homecoming Weekend, Oct. 5 to 7. Take a look at the schedule below: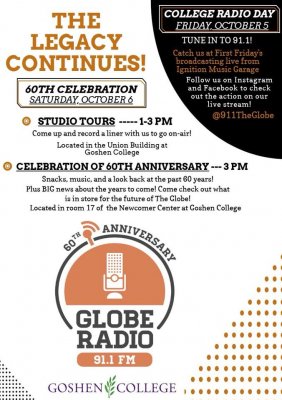 Friday, Oct. 5
The Globe will be broadcasting First Friday live from the Ignition Music Garage.
Saturday, Oct. 6
1-3 p.m: Open house tours of The Globe's Goshen College studio in the Union Building, where visitors are invited to record their own custom liners for broadcast.
3 p.m: Official celebration of the anniversary, with past and present staff members  in Newcomer 19.
Sunday, Oct. 7
The Globe will broadcast and hour-long documentary, produced by Laura Hoover, student station manager. The documentary celebrates the history and past 60 years of the station.