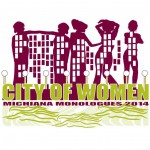 Michiana Monologues 2014
The Goshen College Sociology, Social Work & Anthropology and Women's and Gender Studies departments hosted the 8th annual production of IUSB's Michiana Monologues: City of Women.  $955 were raised for local organizations that work with women, and over 200 people attended.
Check out http://www.michianamonologues.org/ for more information about the Michiana Monologues.