MICHIANA MONOLOGUES 2013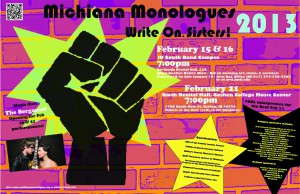 Five years ago, IU South Bend embarked on a new campus-community writing and theater project, the "Michiana Monologues." Inspired by Eve Ensler's The Vagina Monologues, the "Michiana Monologues" brings to voice the experiences of women in our community, who anonymously submitted their stories for a stage production. Last year, well over a thousand people attended the performances, and we raised $10,000 for local organizations that work to stop violence against women.
Our 2013 production is February 15th and 16th at 7 pm in Northside Recital Hall 158 on IU South Bend's campus. Tickets are $10, and go on sale in early January through the IU South Bend Box Office (574-520-4203). This year, we'll have an additional performance on February 21 at 7 p.m. in Goshen College Music Center's Rieth Recital Hall. Ticket information is on our website: www.michianamonologues.org
Local women opened their hearts for this production. Their stories are alternately tender, moving, hilarious, angry, healing and empowering. Our audience will be as moved and entertained by the production as we were by reading the submissions. Other local women will star as part of our diverse cast. Music, sign-language interpreters, and tabling by local organizations devoted to women's health and wellness enrich this well-publicized and attended campus and community event.
We are hoping to raise at least $15,000 this year for our expanded beneficiary list: YWCA of North Central Indiana, SOS of the Family Justice Center, Planned Parenthood of Indiana, the Elkhart Women's Shelter, the GBLT Resource Center of Michiana, Youth Services Bureau, the Maple City Health Center, and Indiana Legal Services.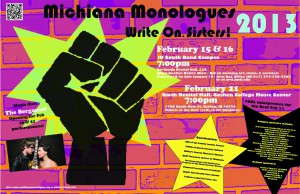 ~ The Michiana Monologues team: www.michianamonologues.org