Marjorie Brandeberry celebrated for 35 years of service
Marjorie Brandeberry celebrated for 35 years of service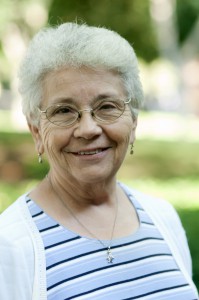 The following comments were shared at the annual All-Employee Recognition Celebration to honor our office manager Marge's many years of service to Goshen College.
It is my honor to recognize Marjorie Brandeberry, known to most of us as "Marge in charge", office manager for two departments:  Sociology, Social Work & Anthropology, and Art, for her 35 years of service to Goshen College, with a lovely broach made by Kristi Glick.

Marge is not one to enjoy being the center of attention—if she'd had any choice in the matter, she wouldn't be here today.  She truly prefers to serve in the background and help get things done.  And Marge certainly does help get things done.  She's assisted the Sociology, SoWk & Anthropology dept through 3 moves—from the basement of Kulp, to High Park 3rd, to the current Wyse Hall 1st floor.  She's aided the Social Work Program through six successful accreditation cycles and she's now helping with the 7th.  The very first self-study Marge helped with back in the '70's, she had to physically lay out the document with scissors and paste on a lighted layout board.

In her years of service, Marge has trained at least 25 full-time faculty; you might wonder what kind of training faculty need?  Things like how to use: office equipment, the phone system & computer software; who to talk to in which office, how to submit requests for reimbursement—the list could go on and on…).  And she's trained at least 75 student operators in how to work at the switchboard.

Oh, the switchboard.  Marge was initially hired as an office administrator for the departments of Sociology, Social Work & Anthropology and Home Economics.  Shortly after Home Ec ceased to be a major in the late 80's, Marge was asked if she would add managing the switchboard to her role.  At that point, the switchboard operator sat in a small booth in the Westlawn lobby, and the switchboard was "on" from 8 am – 11 pm; the operator handled all in-coming calls—there was no "direct dial".  Marge said she was willing to take on the switchboard, but she couldn't do her other job from the phone booth.  So the whole enterprise was re-wired into Marge's office on High Park 3rd, and Marge trained & supervised a large group of student workers.

Automation and technology kept advancing, and that part of her job kept changing.  Eventually phones were wired into every student room, campus phones could be direct-dialed from off-campus, and the switchboard was only "on" 8 – 5.  This is all very funny to think about today, when almost every student has her or his own cellphone, and the switchboard only receives calls that need to be routed to offices.  It's fair to say that Marge was sad to see the switchboard move into the Welcome Center earlier this fall, not so much for the switchboard itself, as for the student operators.  They've added a lot of laughter to Marge's workday over the years, and her office in Wyse is much quieter than it used to be.

However, as she has done many times before during her 35 years here at Goshen College, Marge is adapting to change in the name of service, with grace and good humor.  For these reasons, and so many more, it is with much gratitude that I say on behalf of the entire college, Thank you, Marge!
-Jeanne Liechty, Dept. Chair of Sociology, Social Work & Anthropology