Scott Hochstetler, conductor
Scott Hochstetler, Conductor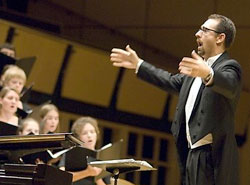 Scott Hochstetler, DMA, is associate professor of music at Goshen College, where he teaches in the choral, vocal and opera theater programs. He is also the musical director of St. Joseph Valley Camerata, an area professional choir. Previous appointments include Western Mennonite School (OR), the University of Michigan – Flint, and Corban College (OR).
Dr. Hochstetler is a diverse conductor, having successfully led church, school, college, and community ensembles, and worked with singers from novice to professional. Under his direction, the Goshen College Men's Chorus performed to acclaim at the ACDA regional convention in March 2012. Hochstetler is in demand as a guest clinician, and has led groups on tours throughout the USA and Canada. Most recently he served as guest conductor for an MSVMA Men's Choral Invitational in Berrien Springs, MI and has prepared local high school singers for the Indiana All-State Choir for the last five years. He has also prepared choruses for performances with the symphony orchestras of Toledo, Lansing and Detroit. In the areas of opera and musical theatre, Hochstetler has served as music director for numerous productions including Dido and Aeneas, Old Maid and the Thief, Urinetown, Utopia Limited, Trial by Jury and Music Man. In the 2013-14 season, Hochstetler will conduct Carmina Burana with the Goshen College choirs and Le Nozze di Figaro for the Goshen College Music and Theatre Departments. In 2010, Hochstetler was chosen as the second director in the 36-year history of St. Joseph Valley Camerata, the premier chamber choir in Northern Indiana.
As a baritone, Dr. Hochstetler has performed opera and oratorio roles and given recitals in Indiana, Michigan, Ohio and Oregon. Most recently, he performed as baritone soloist in Fauré's Requiem with the Toledo Symphony and Goshen College choirs under the baton of Vance George. He has also performed as soloist with the Lansing Symphony, Michigan State Chorale and the Goshen College Chamber Choir and has sung in choirs under major conductors including Vance George, Helmut Rilling, Nicholas Kramer, Robert King, Gustav Meier, Dennis Keene and Moses Hogan. A passionate vocal pedagogue, Hochstetler's voice students have consistently placed highly in vocal competitions, including a winner of the 2011 Indiana NATS competition.
As a scholar, Hochstetler's interests are choral diction and peace-themed choral masterworks. The Choral Journal has published his work on Vaughan Williams and federalism and he is also the co-author of Translations and Annotations of Choral Repertoire, Volume II: German Texts, IPA pronunciation guide, published by earthsongs, with a second book on French and Italian diction forthcoming.
Dr. Hochstetler holds a DMA in choral conducting from Michigan State University, a double MM in conducting and voice from the University of Michigan, an MAT in education from Western Oregon University, and a BA in music and biology from Goshen College. He has studied conducting with David Rayl, Sandra Snow, Jonathan Reed, Jerry Blackstone, Theodore Morrison and Kenneth Kiesler, and he has studied voice with Leslie Guinn, Stephen Lusmann, Doyle Preheim, Richard Fracker, and Anthony Frisell.
Dr. Hochstetler lives in Goshen, Indiana with his wife Rachel and two children, Leah and Aaron. In his spare time, he enjoys playing tennis and cooking Thai food.