Four retiring professors say farewell after decades of service
by Sadie Brenneman '25
Four professors said farewell to Goshen College this summer as they retire and begin the next chapters in their lives. Together, they have served a total of 111 years, and an average of approximately 28 years at Goshen College.
The professors who retired at the end of the 2021-2022 academic year were Randy Horst, professor of art; Keith Graber Miller, professor of Bible, religion and philosophy; John D. Roth, professor of history; and Ruth Stoltzfus, professor of nursing.
---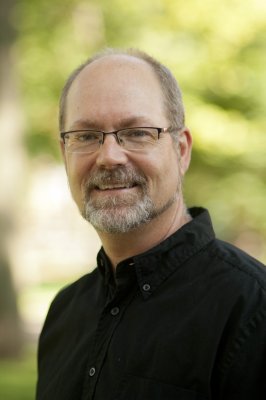 Randy Horst '83, professor of art, retired after 13 years of full-time teaching. During his time in the art department, Horst taught courses in drawing, painting, graphic design, printmaking, art education, aesthetics and art history. While at Goshen, Horst also co-led the Arts in London May term, a trip encompassing visual art, music study and theater while experiencing the city of London.
"Randy Horst has been at the heart of the art department for the last 13 years. Both his rigor and his commitment to his students are very clear in the way they talk about him," said Merril Krabill, professor of art and department chair. "It has been a pleasure to work with him. I am looking forward to seeing what he does as he moves into this next stage of life as an artist."
Horst graduated from Goshen College after his first two years at Hesston College and received a Master of Fine Arts degree from Bowling Green University in 1986. Horst's work in graphic design, drawing and painting has been widely viewed in the Midwest region.
"It was as a student at Goshen College that I first dreamed of a life in higher education. A few years later, as a young professor and sabbatical replacement at Goshen College, I fully began to understand and appreciate what a special campus community Goshen College is. It has been a privilege and the highlight of my career to spend my final 13 years teaching here surrounded by dear colleagues and curious, engaged students," said Horst.
---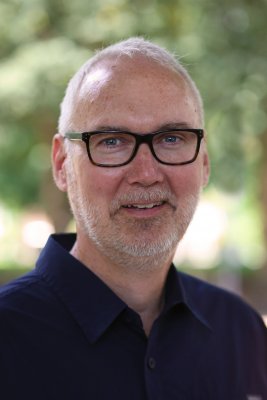 Keith Graber Miller, professor of Bible, religion and philosophy, retired after 36 years of service. Graber Miller has taken on several important roles at the college, from leading nine Study-Service Terms (SST) in five different countries over a 26-year period to developing new Bible and religion courses for the Goshen Core curriculum. Graber Miller's ongoing research and interests focus on religious perspectives on sexuality, the intersection of religion and politics, as well as calling and vocation.
Graber Miller was the author or editor of six books and contributed chapters to more than a dozen texts. In 2012, Graber Miller published "Living Faith: Embracing God's Callings" (Cascadia Publishing House LLC, Dec. 2012), which gives insight into the primary Christian calling to be a follower of Jesus Christ and its connection to vocational life. Throughout his teaching career, he also was frequently asked to speak in congregational and church-wide settings, especially about sexuality.
"While Keith undoubtedly is a wonderful professor, he has also been a really great colleague. His analytical mind, love of learning and generous spirit have contributed to making Goshen College a great place for me to be. I will miss him as a colleague but am glad to know our friendship will continue," said Regina Shands Stoltzfus, professor of peace, justice and conflict studies, and department chair.
Graber Miller graduated from Franklin College in 1981, received a Master of Divinity degree from Anabaptist Mennonite Biblical Seminary in 1988 and a doctorate from Emory University in 1994.
"I can't envisage a vocation that could have been more of a gift – to teach eager young students about theology and philosophy and ethics and sexuality and religious history and peacemaking, to walk alongside people on a journey while talking about the core issues of human existence," said Graber Miller.
---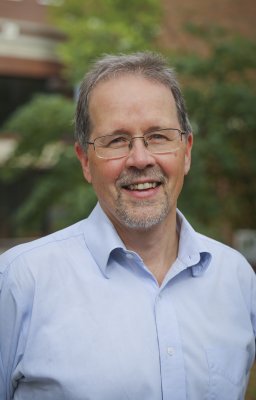 John D. Roth '81, professor of history, director of the Mennonite Historical Library, and founding director of the Institute for the Study of Global Anabaptism (ISGA), retired after 36 years of service. Along with several of his roles at GC, Roth also served as the editor of the Mennonite Quarterly Review and the secretary of the Mennonite World Conference Faith and Life Commission. Recently, Roth's research and writing have focused mainly on global Anabaptism and promoting other projects related to ISGA, which is a research program that accentuates Goshen's long-established tradition of "scholarship for the church," with a strong focus on the global church. He has also published numerous books and articles on topics related to church life and Anabaptist-Mennonite history. Following his retirement from the college, Roth is actively transitioning into the role of project director for MennoMedia's "Anabaptism at 500" initiative.
"An engaging teacher and public speaker, a prolific writer and editor, and deeply committed to the well-being of the Anabaptist-Mennonite faith community, Roth impacted countless students and others. He served in numerous internal and external roles with unflagging energy and enthusiasm," said Joe Springer, curator of the Mennonite Historical Library.
Roth graduated from Goshen College in 1981 and received both a master's degree in 1983 and a doctorate in 1989 from the University of Chicago.
"I'm deeply grateful to my students and colleagues at Goshen College who helped bring so much joy to my work… The variety and challenges entailed by these diverse assignments meant that each new day was truly an opportunity and an adventure… I look forward to supporting the college in whatever ways I can in the years to come, confident that the motto of 'Culture for Service' will continue to shape its mission in ever new and creative ways," said Roth.
---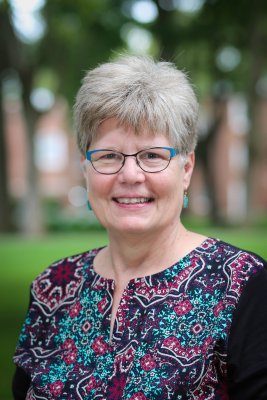 Ruth Stoltzfus '79, professor of nursing and co-director of the doctor of nursing practice program, retired after 22 years. Stoltzfus began her work at GC as director of the student wellness and health center and campus nurse practitioner. In 2008, she transitioned to associate professor of nursing and curriculum coordinator of the Master of Science in Nursing (family nurse practitioner) program. In 2012, Stoltzfus began as both a professor of nursing and the director of the MSN program.
In 2016, Stoltzfus moved into her final position as co-director of the Doctor of Nursing Practice (DNP) program. In this final role, Stoltzfus was an integral part of the proposal, development and implementation of the first doctoral program at Goshen College. During her time at Goshen, Stoltzfus also led several Study-Service Terms (SST) in the Dominican Republic.
"Ruth has served as a mentor to myself and many other nurses on our faculty, in our community and probably even around the world. She is always supportive of our endeavors as a department, and as an emeritus faculty she continues to serve by teaching in the MSN and DNP programs. The nursing department acknowledges and thanks Dr. Stoltzfus for her dedication to Goshen College," said Jewel Yoder, associate professor and chair of the department of nursing.
Stoltzfus graduated from Goshen College in 1979, and received a Master of Science in Nursing degree in 1987 and a doctorate in 2012, both from Indiana University-Purdue University Indianapolis.
"When I came to Goshen College, I was coming from working almost 15 years in private practice in a position I loved. At Goshen College, I was allowed and trusted to explore and develop skills that I wasn't always aware that I had. It was sometimes hard and lonely work, but I am grateful for the opportunities I was given," said Stoltzfus.