New adult programs in communication and sign language interpreting introduced
Goshen College has launched two new career-building programs for adult students, in communication and sign language interpreting that will begin in the fall of 2021.
The communication program, which is intended for adults who have completed some college-level education, will be offered both in-person during evening hours and online. The sign language interpreting program's courses will be taught in person and almost exclusively during the day. In both programs, adult students will learn side-by-side with traditional undergraduate students.
Tuition is based on the discounted rate for adult students. In addition, the college is offering a limited number of $1,000 scholarships for new adult students from Elkhart County who enroll this fall and demonstrate financial need.
Communication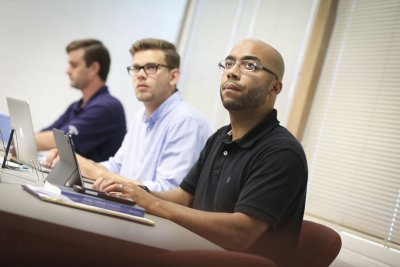 Adult students seeking to complete a bachelor of science in communication degree will learn alongside the traditional undergraduate program in the award-winning communication department, which has received numerous awards in radio, TV, journalism and film.
"We are pleased to offer a high-quality communication program for working adults who are eager to finish their college degree and enjoy the benefits that come with that accomplishment," said Duane Stoltzfus, the chair of the communication department and director of adult and graduate programs at Goshen College.
Strong communication skills are one of the most in-demand skill sets among employers in a wide variety of fields — particularly for supervisory, management and leadership roles. Through this program, students will gain the technical knowledge and hands-on, real-world experience to advance in their current careers, or to move into any number of communications professions.
Beyond the traditional classroom, teaching labs are available with the The Globe radio station, Globe TV, FiveCore Media, the Record newspaper, the Write on Sports summer camp, the RiverBend Film Festival and the C. Henry Smith Peace Oratorical Contest.
The media operations are housed in the Center for Communication Studies, a $1.2 million wing that opened in the fall of 2020, featuring the only radio station in the nation whose on-air talent looks out on a cloister garden.
Applicants for the bachelor of science degree in communication must have earned at least 20 college credit hours.
Transition to Interpreting licensure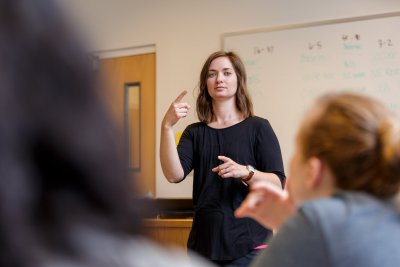 The Transition to Interpreting program allows bachelor's degree graduates from any college to transition into sign language interpreting. Students will be ready for licensure and a career in interpreting in as few as three semesters.
"For someone who would like to make a career change, or add another career to their options, the Transition to Interpreting program provides an affordable path to the high level of skill and competencies needed to be a successful Sign Language Interpreter," said Colleen Geier, professor of sign language interpreting and program director. "Sign language interpreting is a good paying and versatile career that provides a much needed service in bridging the communication gap between the hearing and Deaf communities."
According to Geier, there is a national shortage of sign language interpreters with opportunities to work in every type of interpreting, such as medical, educational, legal, business, performance, mental health and vocational training.
Students will participate in field experiences starting in the first semester of coursework and continue throughout their education. Multiple out-of-class interpreting opportunities provide exposure to diverse communities and contexts.
Goshen's sign language interpreting program's small class sizes allow students to work closely with professors and peers in a rigorous but supportive setting.
Applicants for the Transition to Interpreting licensure program must have an undergraduate degree in any subject with competency in American Sign Language (ASL) equivalent to ASL 202 – ASL 4.
More adult and graduate programs
Goshen College also offers a fast-track, online, evening RN-to-BSN program for registered nurses who wish to earn a bachelor's degree; and a fully-accredited bachelor of science degree is also available in social work, primarily through evening classes on campus. Graduate programs include an online Doctor of Nursing Practice (DNP), onsite Master of Science in Nursing (MSN-FNP), online Master of Business Administration (MBA), and onsite Master of Arts in Environmental Education.
For more information, visit www.goshen.edu/adult or contact adult@goshen.edu.