The 18 best photos from 2018
Over the course of the past year, we've captured thousands of photos that encapsulate life at Goshen College – from long-planned events to the unscripted moments, the memorable to the mundane – these images provide a glimpse of the GC experience.
So here's a look back at some of the highlights from 2018: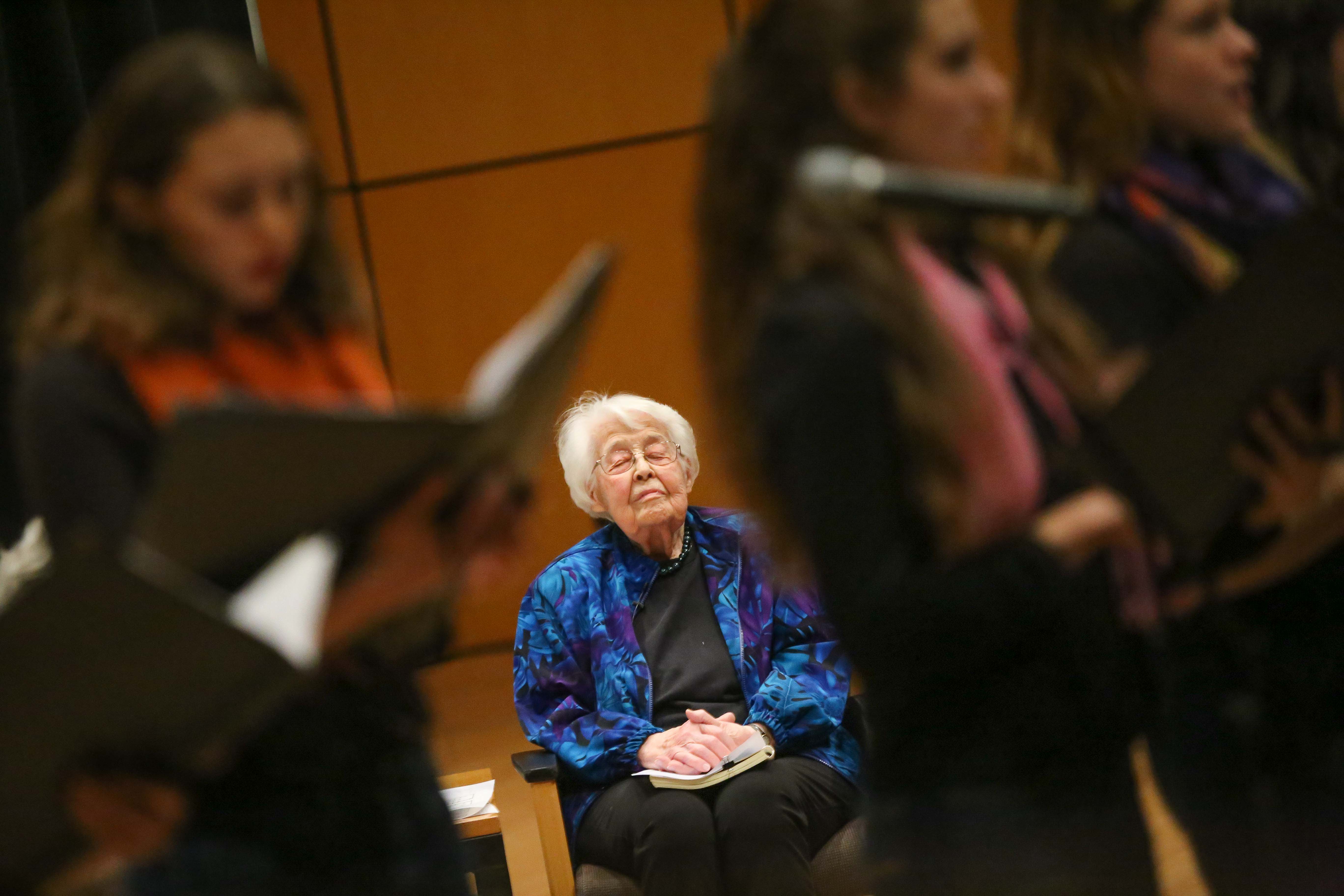 Mary Oyer, professor emeritus of music, listens to the Women's World Music Choir perform during an event in which Oyer and Alice Parker, internationally renowned composer, conductor and teacher, discussed their friendship and impact on the world of church music.
» See more photos from this event
---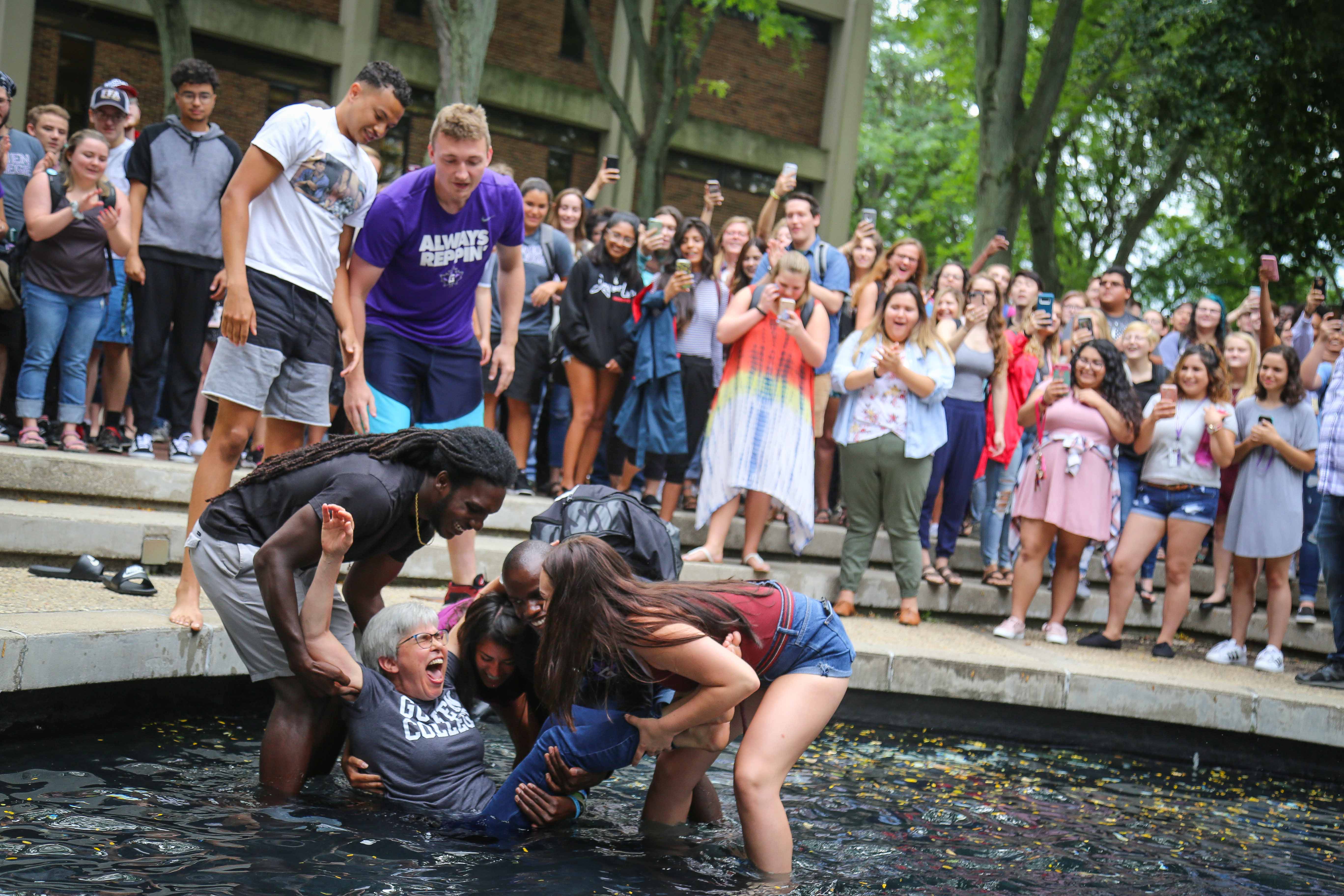 President Stoltzfus is dunked in the Schrock Plaza fountain, a GC tradition for new GC presidents, following the opening convocation and annual applause tunnel in August.
» See more photos from the opening convocation
---
Achieng Agutu, a public relations major from Kisumu, Kenya, celebrates before receiving her diploma during the 2018 commencement ceremony.
» See more photos from the 2018 commencement
---
Caleb Liechty (left), a 2018 graduate from Archbold, Ohio, and Joshua Liechty, a senior from Archbold, Ohio, lift Pirate King Lukas Thompson (right), a senior from Goshen, to their shoulders during Goshen College's spring performance of The Pirates of Penzance. (Photo by Dillon Hershey)
» See more photos from the Spring Mainstage, "The Pirates of Penzance"
---
Mario Wenger, former professor of German, participates in the SST StoryCorps project during Homecoming Weekend, part of the Study-Service Term 50th anniversary. Kyle Hufford, assistant professor of communication, and Greta Neufeld, a junior film production major from Lancaster, Pennsylvania, record the interview, which is being conducted by Jodi H. Beyeler, director of communications.
---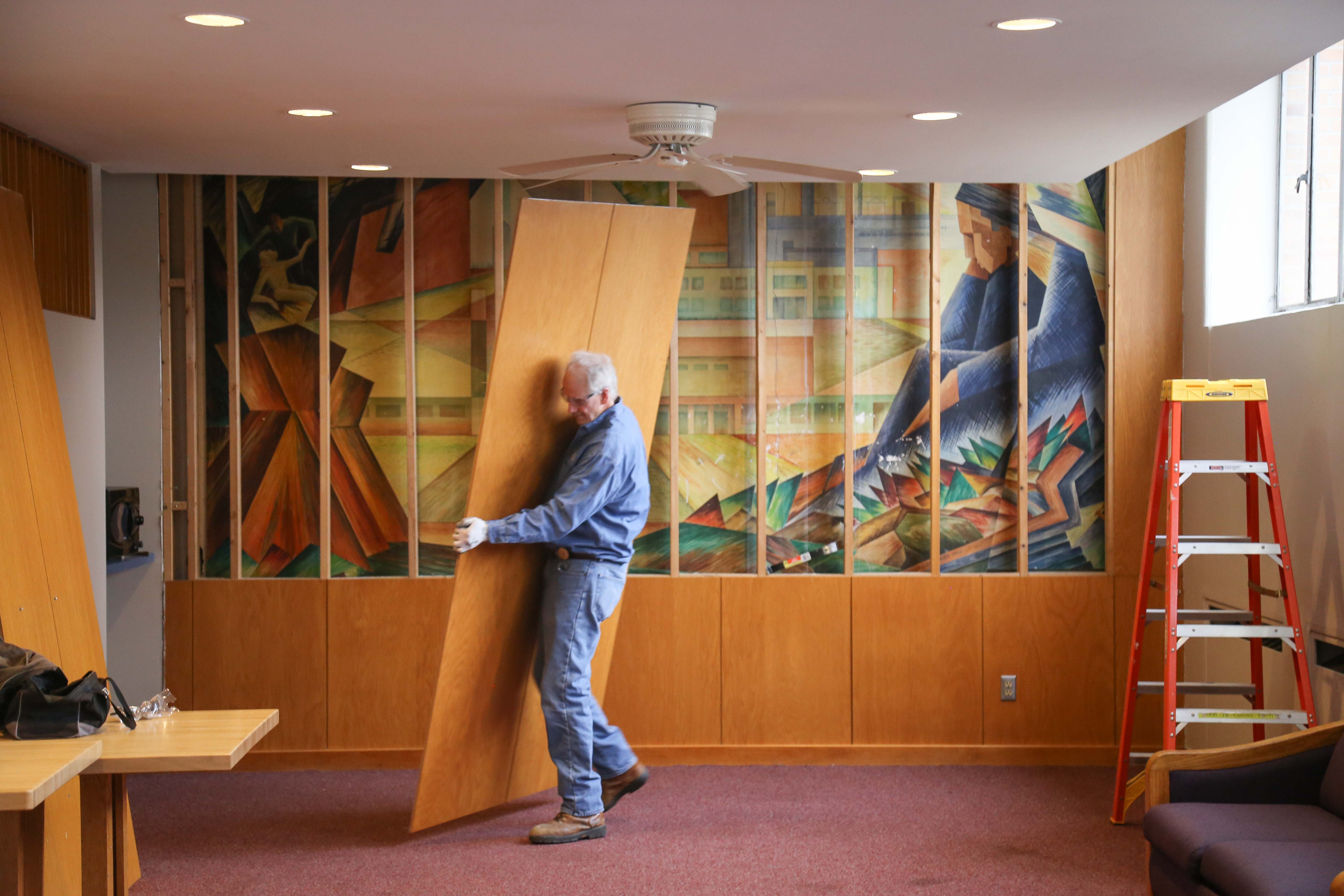 Ed Yoder, general maintenance supervisor, removes a wall panel in the Leaf Raker Snack Shop to reveal a mural painted by former art professor Art Sprunger in 1949, after being hidden for nearly four decades. The mural was revealed as part of the beginning stages of the 2018-19 Union Building Renovation & Revitalization Project, though it will again be covered.
---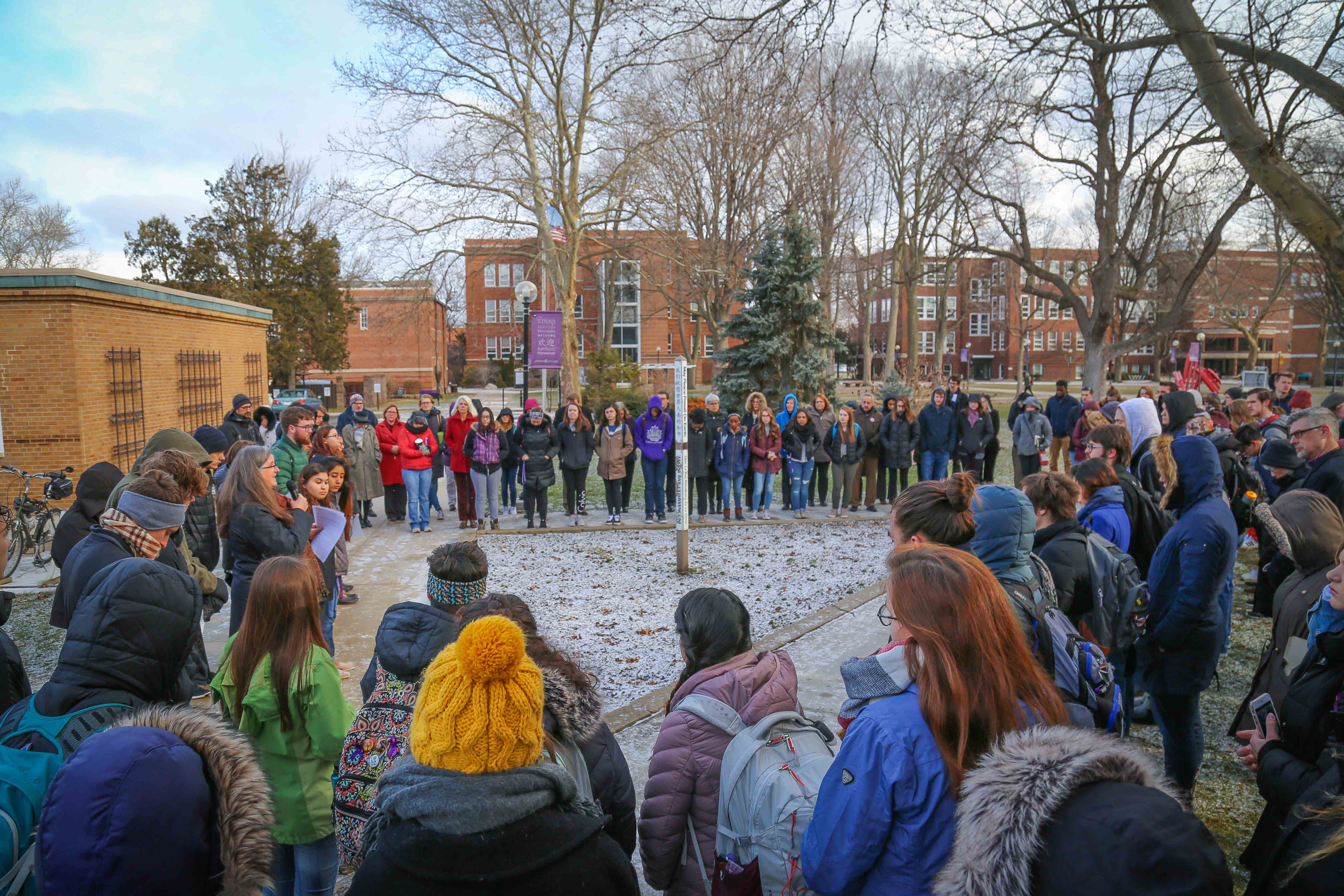 The Goshen College community participated in the nationwide walkout on March 14 by gathering around the Peace Pole outside the Union Building to honor the lives of the 17 people killed at Stoneman Douglas High School and press lawmakers to pass stricter gun control laws. This included a time of prayer, music and reflection led by the Campus Ministries team.
---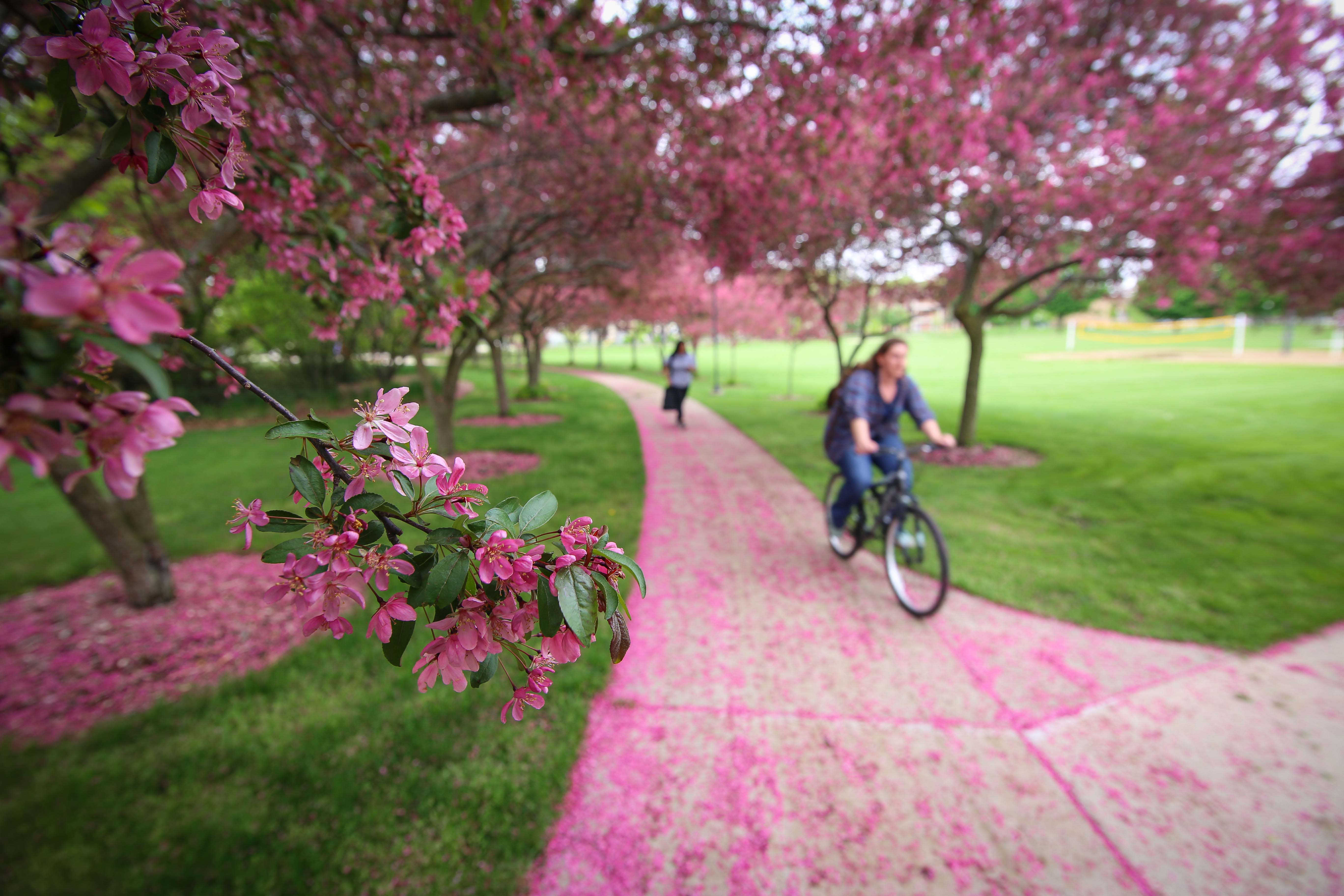 Crabapple trees bloom in May along a path by the Roman Gingerich Recreation-Fitness Center on campus.
---
The Goshen College men's volleyball team hosts a scrimmage against Sienna Heights University in its first season as a club team. The team will officially play its first varsity season beginning in January 2019 as part of the Wolverine-Hoosier Athletic Conference.
» Learn more about men's volleyball at GC
---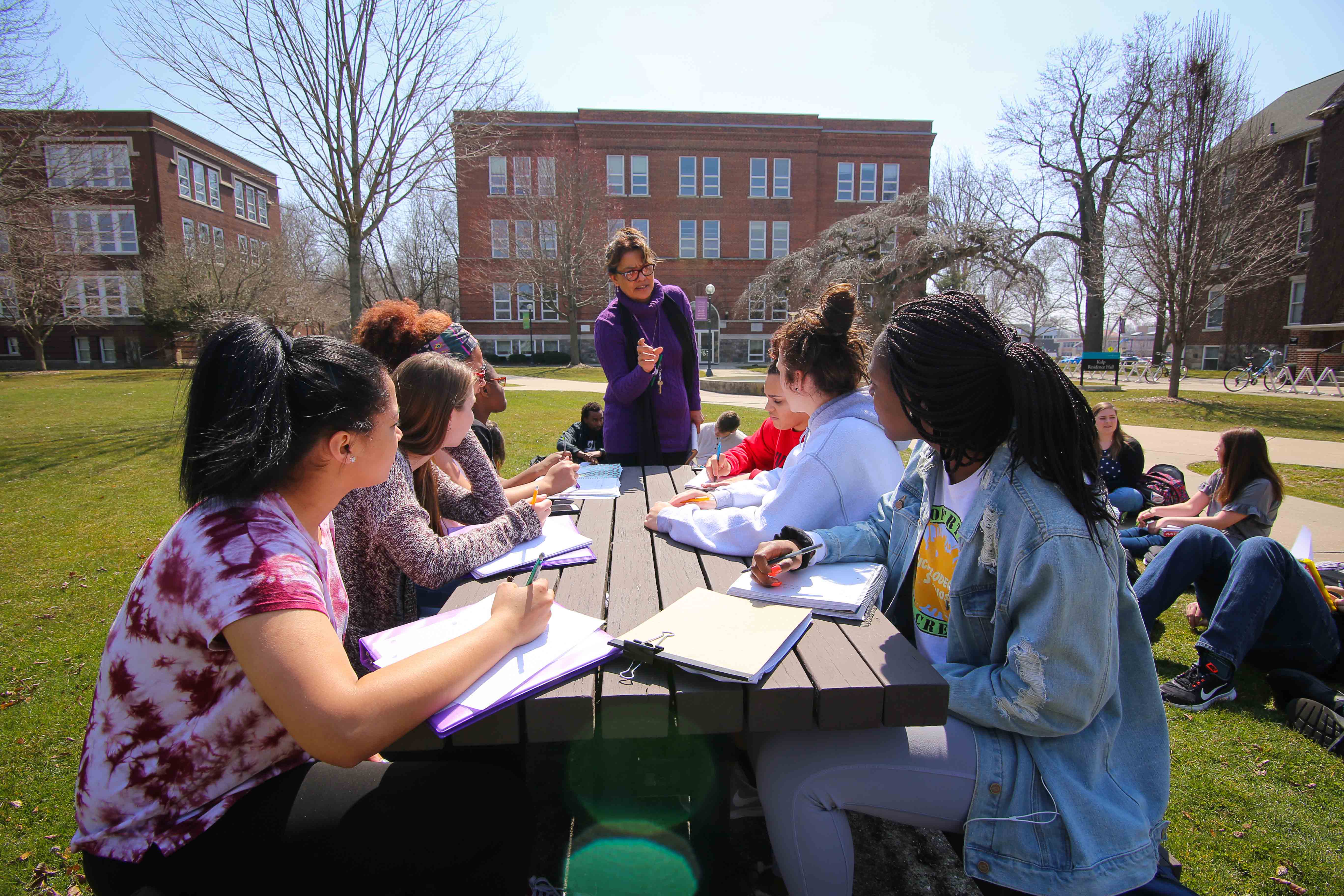 Maria Sanchez Schirch teaches a Spanish class outside on a sunny April afternoon.
---

Gordon Yoder, associate director emeritus of college relations, surveys the installation of a 924-panel solar array — the first solar panels on campus — on the roof of the Roman Gingerich Recreation-Fitness Center, a project which he helped finance. The college joined with College Mennonite Church to do this project in order to make the Church-Chapel building fully powered by renewable energy.
» Read more about the solar panel project
---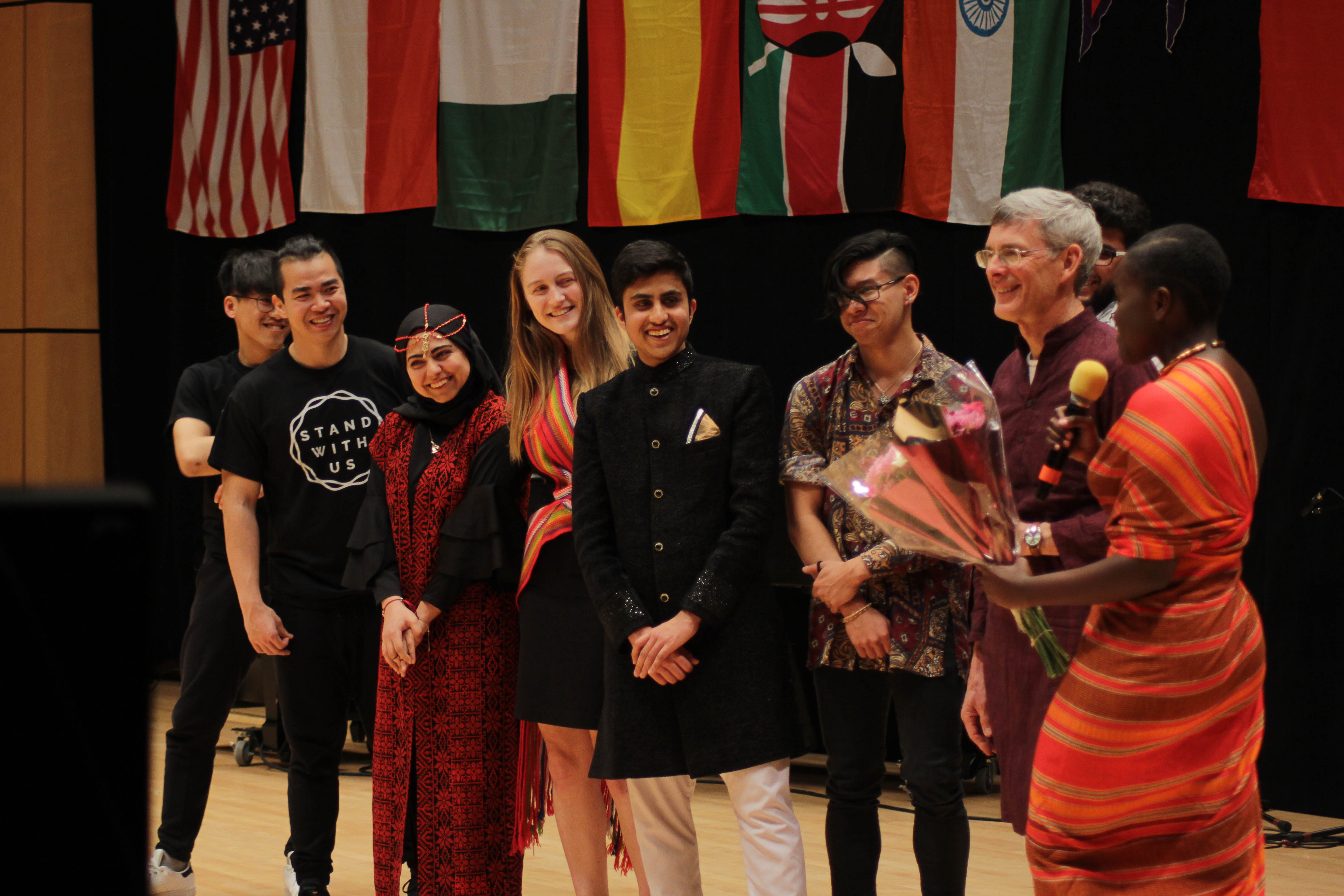 Students participating in the annual International Student Club coffeehouse celebrate with Skip Barnett, associate professor of English and international student advisor, who retired this year after many years of serving students from around the world.
» See more photos from the ISC Coffeehouse
---
New students work together during New Student Orientation Weekend's team building exercises at Merry Lea Environmental Learning Center of Goshen College.
» See more photos from New Student Orientation Weekend
---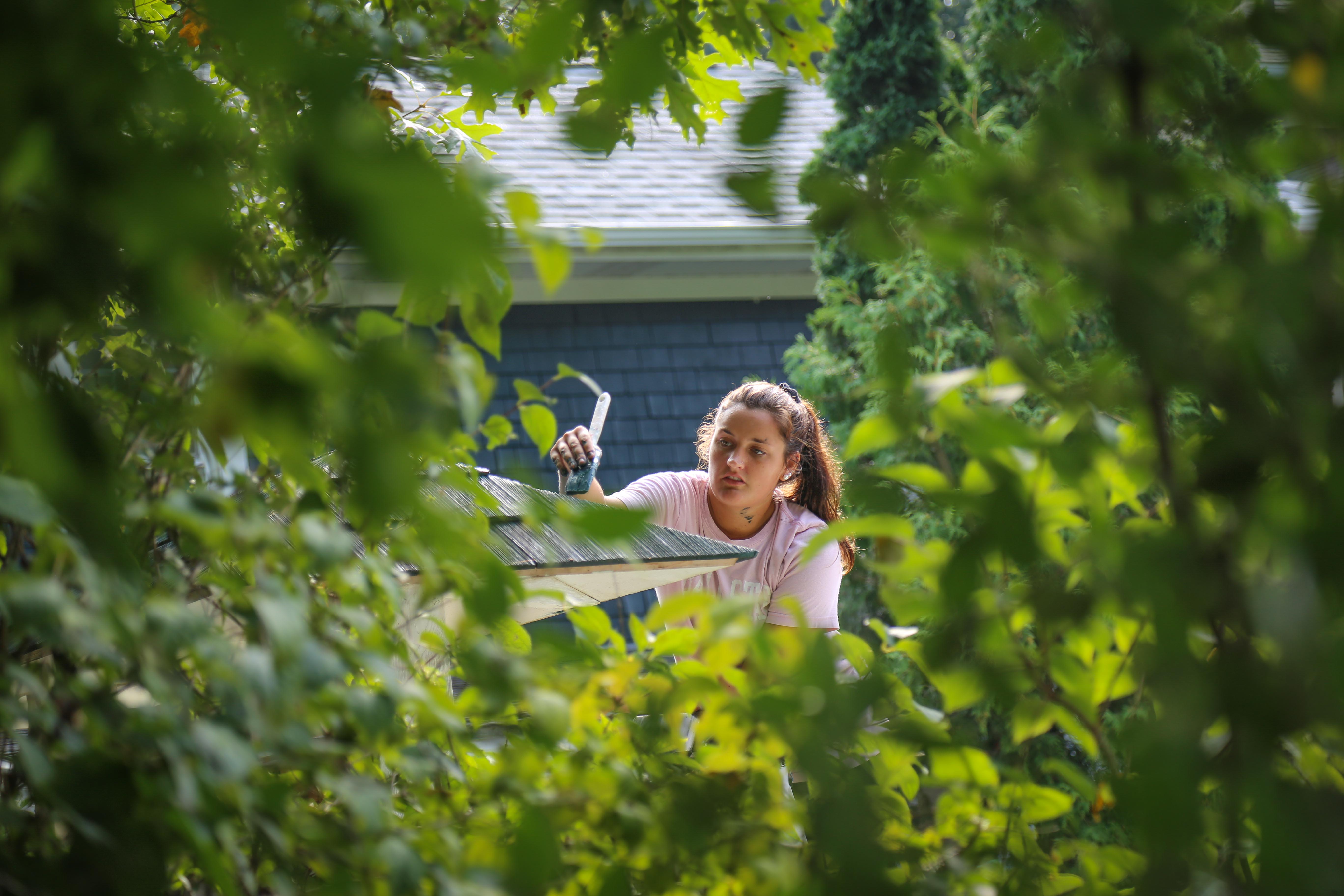 Hannah Behm, a first-year student from Columbia City, Indiana, paints a gable at Pathways Retreat Center in Goshen during the college's annual Community Engagement Day.
» See more photos from Community Engagement Day
---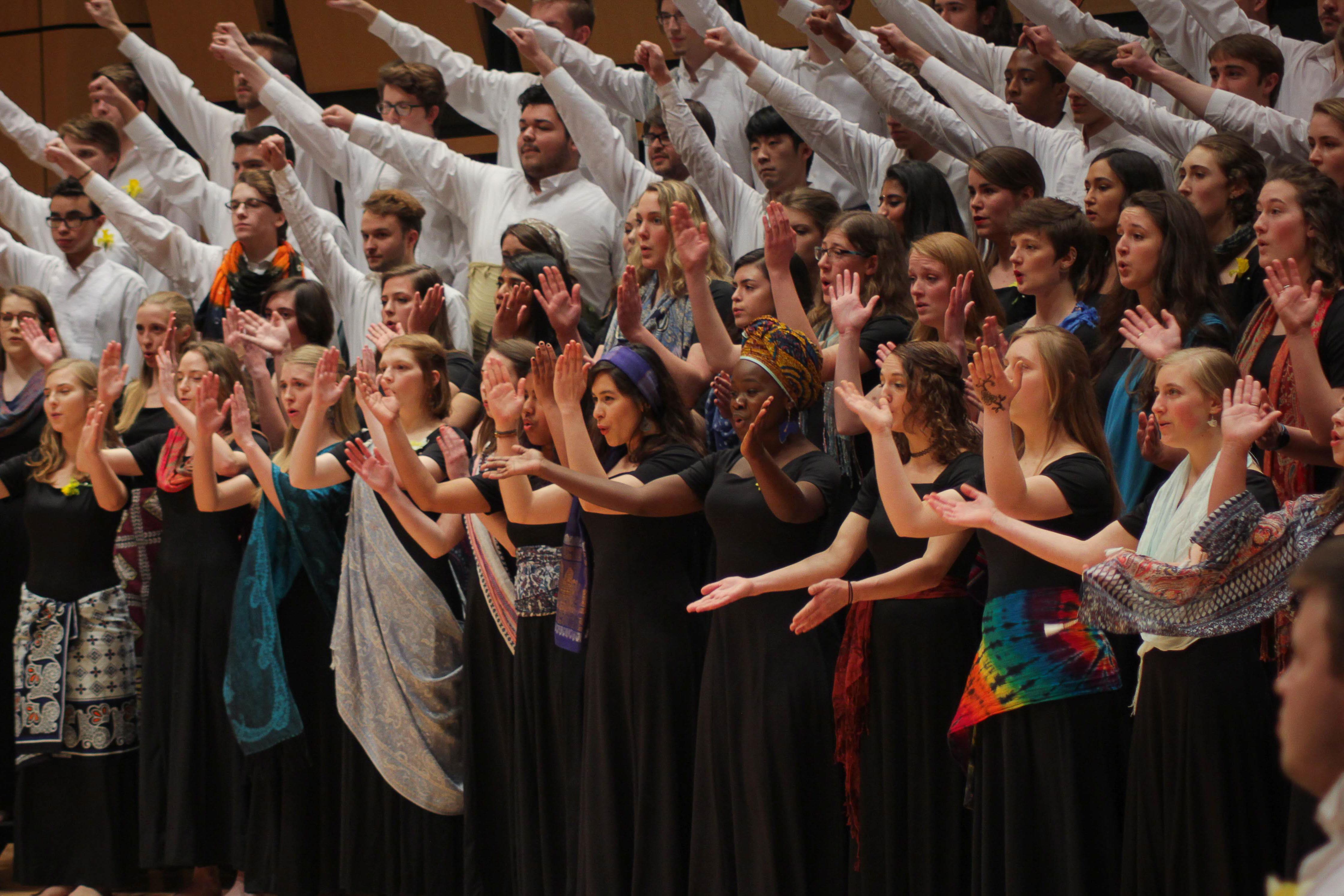 GC choirs perform during the annual EARTHTONES concert, celebrating the voices and musical traditions from around the world.
» See more photos from the EARTHTONES Concert
---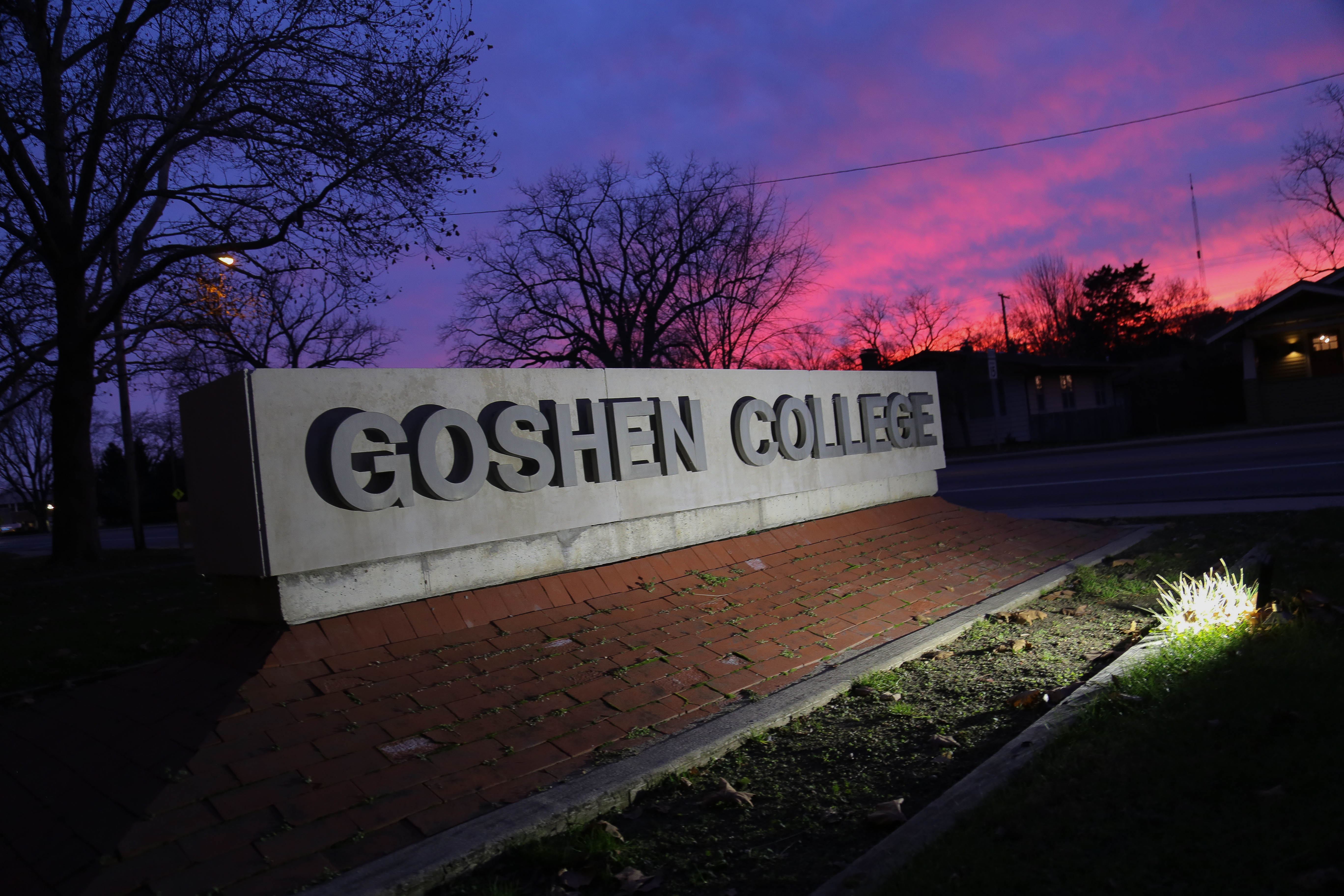 A December sunset illuminates the sky behind the college sign on Main Street.
---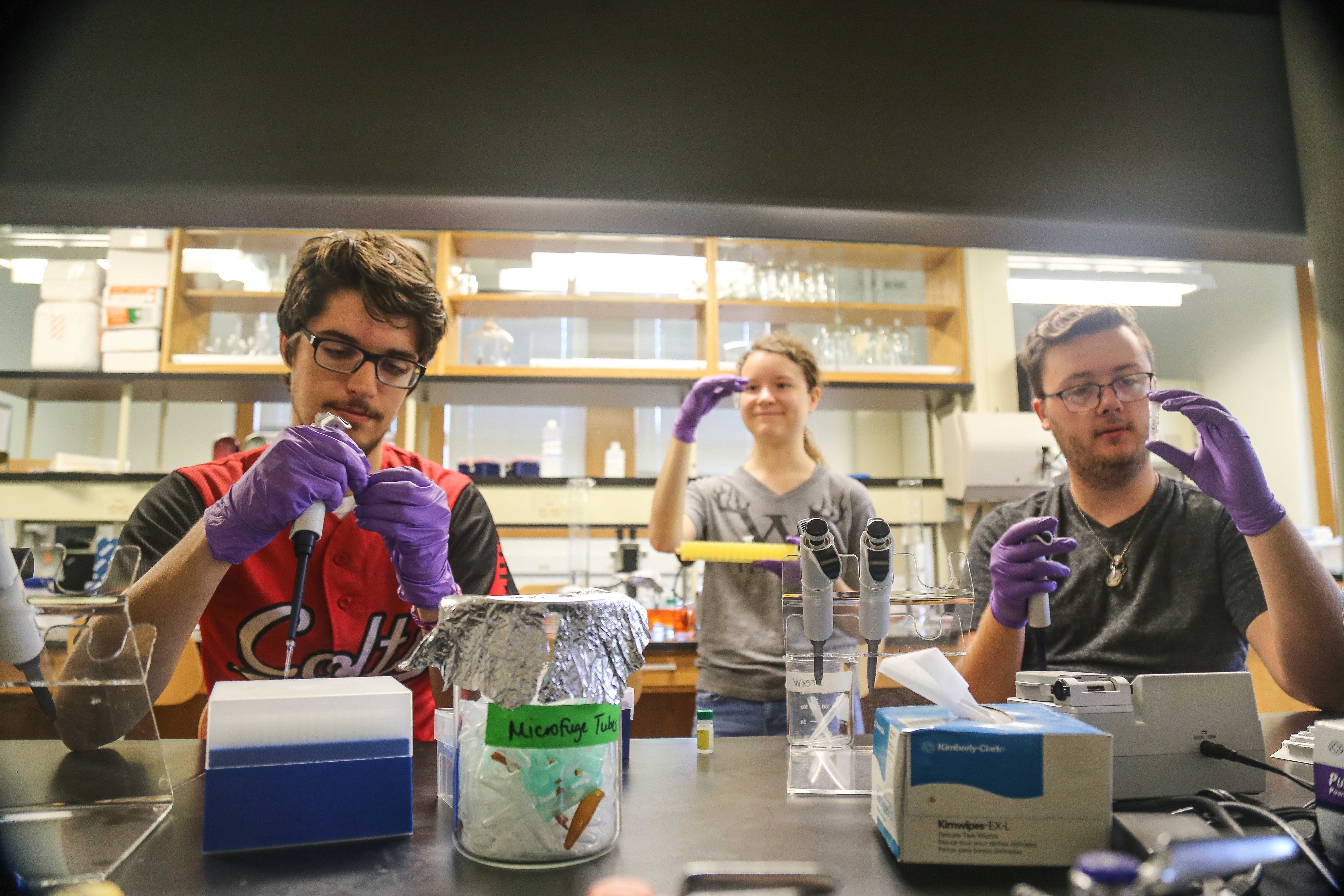 Isaiah Kaufman, a sophomore molecular biology/biochemistry major from Goshen, Cailin Smith, a junior molecular biology/biochemistry major from Knightstown, Indiana, and Morgan Catron, a senior molecular biology/biochemistry major from Goshen, work together on Maple Scholars summer research projects in the lab.
» Read more about this year's Maple Scholars
---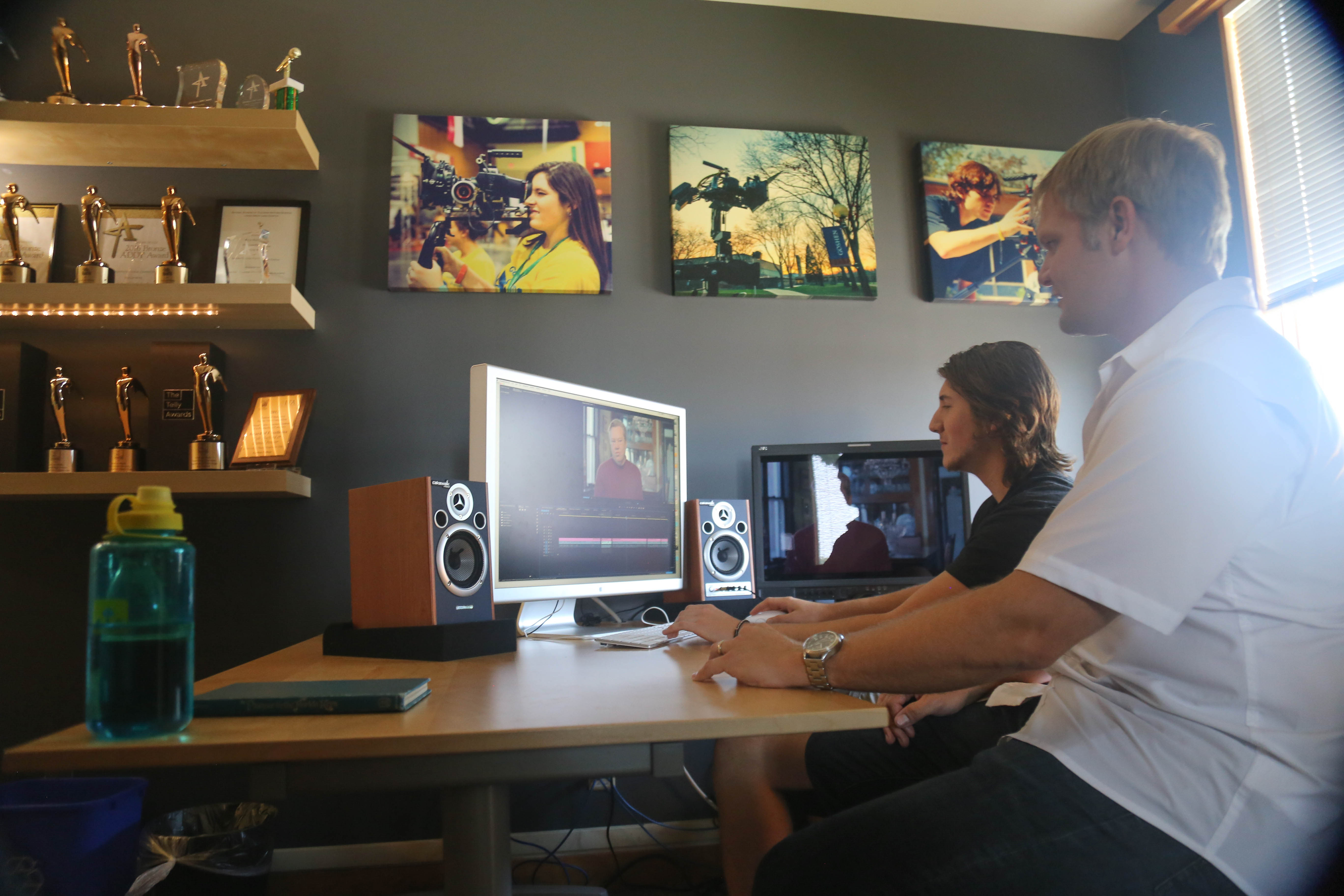 Ben Hathaway, a sophomore film production major from Goshen, works with Kyle Hufford, assistant professor of communication, to create a long form documentary about Goshen's Plaut family, who saved more than 13 families from the Holocaust. Students in the communication department and award-winning FiveCore Media also produce two other documentaries this year, "Deep Dive," chronicling the 50-plus year history of Goshen College's Marine Biology program in the Florida Keys, and "Three Groups, One Story," which tells the stories of the Hutterite, Swiss Amish and Low German Mennonites who settled in Freeman, South Dakota, in the 1870s.
---
*Photos by Brian Yoder Schlabach, news and media manager, unless otherwise noted