Film students make documentary telling stories of South Dakota Anabaptist settlers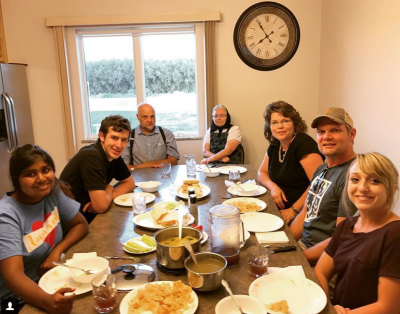 In August 2017, Tabitha Immanuel, a Goshen College senior from New Delhi, India, found herself in a place she never expected to be — at a dinner table with a Hutterite family near Freeman, South Dakota.
She was there with two other students and a professor with the college's video production company, FiveCore Media, recording the Hutterite dialect for a 75-minute documentary titled "Three Groups, One Story." When the Hutterite family learned the film crew had not eaten yet, they invited them in for a meal.
"I had never been to South Dakota before, so I didn't' know what to expect," Immanuel said. "The people were very friendly. It was really cool getting to know the different groups there, especially the Hutterite community, which lives communally and seemed really different at first until I learned more about them."
Immanuel, who is a film production and theater double major, along with film students Riley Mills, a senior from Milltown, Indiana, and Timothy Litwiller, a senior from Phoenix, as well as Kyle Hufford, assistant professor of communication and general manager of FiveCore Media, spent a week in Freeman, South Dakota, to film the documentary telling the stories of the Hutterite, Swiss Amish and Low German Mennonites who settled in the Freeman area in the 1870s.
Project beginnings
In fall of 2015, Marnette Hofer, an archivist for the Heritage Hall Museum and Archives (HHM&A) in Freeman and the film's executive producer, pitched the idea of bringing together one historian from each ethnic group to tell the Freeman story. She met weekly with three local historians, Robert Engbrecht, S. Roy Kaufman and Norman Hofer, to choose stories and write a script for a presentation. They presented their work the next spring at Schmeckfest — Freeman's annual celebration of these three groups, their foods and their traditions — to a captivated audience, and began to think about ways to preserve and share the stories with a wider audience.
With a $3,500 grant from the South Dakota Humanities Council and a other crowdsourced funding, the project to create a documentary was set in motion.
"Freeman is the only place in the world where these three ethnic groups settled side by side," Hofer said. "It could've been a difficult situation, as each group was very different from the others. But they began to work together and sought their commonalities. It has made Freeman a very unique place and this film was my effort to tell the story of how we all got here."
When Hofer, who is also the parent of four Goshen College alumni — Joshua (2011) Vanessa (2013), Alicia (2014) and Christina (2016) — was given the go-ahead to hire a video company to create the documentary, and reached out to several video production companies, including FiveCore Media.
After some conversations with Hufford, Hofer insisted on going with FiveCore Media.
"In visiting with each company, I felt like Kyle had the best questions and really wanted to understand what I wanted from this project," Hofer said. "And I knew that this was going to be a very unique project!"
Hufford said that he was reluctant at first to take on such a large project in a community they knew very little about, but he eventually came around.
"Marnette was persistent and really wanted us to do this," Hufford said. "She also really liked the connection to the college and the fact we would be using this as a learning opportunity."
Lessons and challenges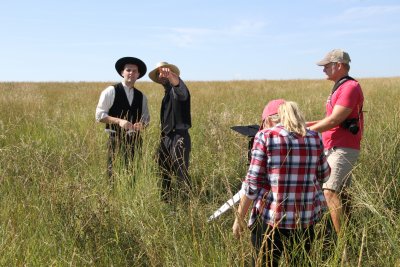 The week before travelling to Freeman, FiveCore Media created a mockup of the presentation in a large room to make sure they had everything they would need.
"One of the challenges was to bring all of the equipment we needed because we were not only filming locations, but we were also filming dramatic reenactments and a four camera multicam presentation," Hufford said. "We couldn't just go back to the office to get something we forgot."
The four-person FiveCore Media crew packed all of their equipment into a van for the 11-hour drive to Freeman. They got to work immediately upon arrival, scouting out shooting locations and meeting with Hofer and the historians that they would interview.
"We were completely focused on the project the whole week we were there," Immanuel said.
"Most days were at least 12 hour days, but that is the life of film production and its really good to have the students experience that," Hufford said.
They interviewed historians, gathered hundreds of photos to be included in the documentary and recorded music and people speaking the original languages and dialects of the different groups.
"With any historical documentary, accuracy is really hard, so we were trying to fill in as much as we could, but much of the stories take place before photography," Immanuel said. "It was really hard finding enough photos and videos to support the story and to make it interesting."
They also worked with local actors to shoot realistic reenactments.
"These were a lot of fun to do, but a challenge to get the right clothing and find the right locations that made it look like it did in the late 1800's," Hufford said. "We are really happy about how it came out."
After a week of filming, the FiveCore crew returned to Goshen and spent the next six months piecing the documentary together. Many versions were sent back and forth between Goshen and Freeman, and the final 75-minute film premiered March 4 at the Lund Theater in Viborg, South Dakota, and is being shown during Schmeckfest in Freeman this month.
"FiveCore was great to work with," Hofer said. "We enjoyed having them in the community for that week in August. I really appreciated their dedication to this project and to making sure we were happy with the final product, which we are."
And for the students involved in the production side, it was not just an opportunity to gain first-hand experience shooting and editing a feature-length documentary, it was a chance to learn about three very unique groups of people.
"I had to put myself in the shoes of people I've never seen before and never talked to before, and that made a huge difference in making this film," Immanuel said. "It was great learning opportunity and great experience for my future career."