70-year-old mural revealed in Union Building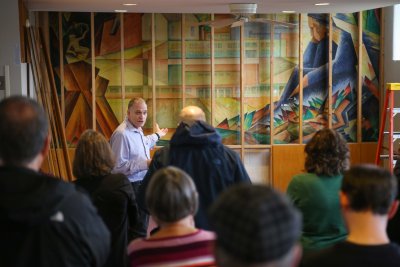 A mural painted by former art professor Art Sprunger in 1949, depicting student life on the Goshen College campus, was revealed this week after being hidden behind wall panels for nearly four decades.
About 50 people gathered to see the mural as it was unveiled and hear about its history from Joe Springer, Mennonite Historical Library curator.
The mural, located on the south wall of the Leaf Raker Snack Shop in the Union Building, was covered in wood paneling in the early 1980s as part of major renovations to the snack shop area. According to Springer, the surface of the mural had exhibited some signs of deterioration and its design likely seemed outdated to those hoping to rejuvenate the space.
The mural incorporates the religious, academic and social aspects of college life, which are interwoven into a panoramic portrayal of Goshen College activities. The mural was commissioned by the Young People's Christian Association.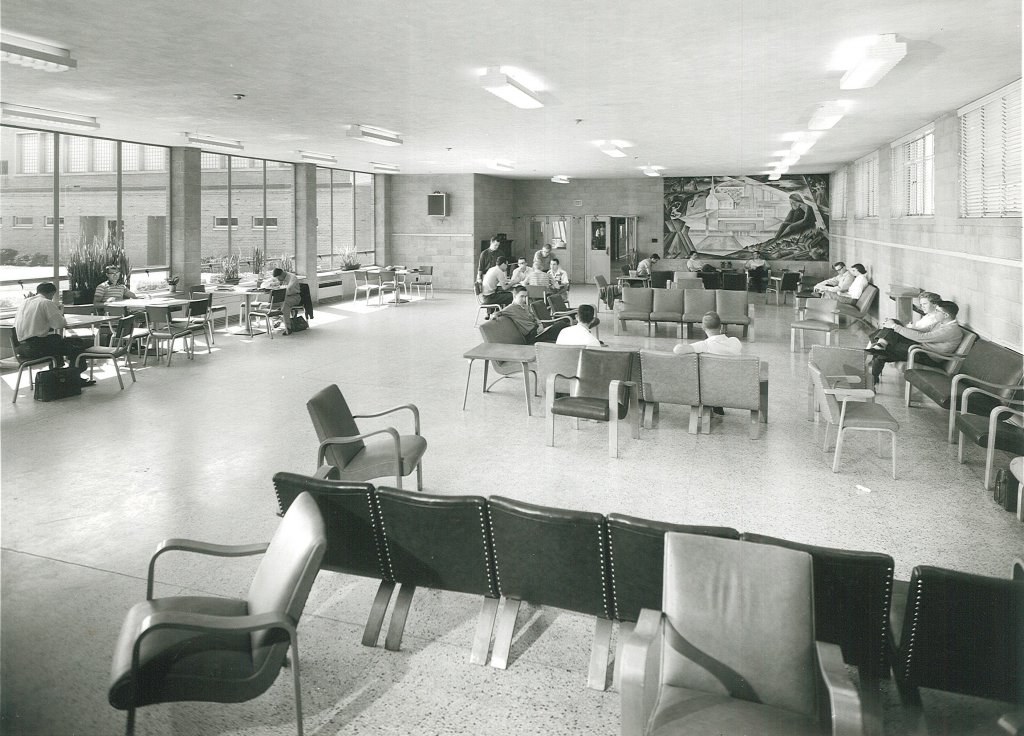 Sprunger (1897-1972) taught art classes on Saturday mornings at GC from 1927 until 1954, when GC hired Ezra Hershberger as the first full-time art professor.
Sprunger's students remembered him as a catalyst and encourager, someone who sought to have students grow and develop through creative action, whether or not they intended to become "artists."
The mural is believed to be the largest work Sprunger created.
The mural was revealed as part of the beginning stages of the 2018-19 Union Building Renovation & Revitalization Project.
Editor's Note:
What will happen to the mural now? A statement from Goshen College (12.14.18):
We enjoyed this unique opportunity to revisit and celebrate this important part of our campus' art history, but the plans for the Union renovation do not include leaving this mural on display. Moving it isn't possible and restoring it would not be practical. During the renovation, it will be covered up again (maybe to be uncovered again in 30 years)!
In this year of celebrating our 50 years of SST, we are excited to share that the significant Hunsberger Haitian Art Collection gifted to the college by Arlin and Naomi Hunsberger will be on display in this space and in the Union hall after the renovation. It's an incredible gift of works by many different Haitian artists that we are thankful will be now fully accessible to the campus and the public.