Gifts of hospitality and music welcome South African student to campus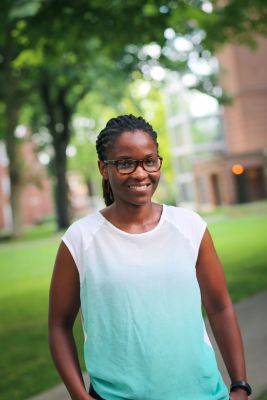 Through gifts of hospitality and music, Goshen College junior Simelwe "Sim" Dlova, from Mthatha, South Africa, has found true community in Goshen, Indiana, even though it's almost 9,000 miles from her home.
This journey began in Mthatha when Dlova met alumna Anna Liechty Sawatzky '01 and her husband Joe Sawatzky, who were working there with Mennonite Mission Network, the mission agency of Mennonite Church USA. Anna is also the daughter of Joe Liechty, GC professor of peace, justice and conflict studies, and she told Dlova all about the college.
"I was going to apply for a scholarship in a different country, and Anna said, 'If you leave the country, then you might as well go to Goshen,'" Dlova said.
Dlova applied, and when it looked likely that she would attend Goshen, she and Anna set up a fundraiser to help with the costs of the move and tuition.
"I wrote something about my story — where I grew up and what my life was like," she said. "One of the people who contacted Anna was Dr. B. [Debra Brubaker, GC professor of music] who said that the women's choir was going to help with the fundraising."
Brubaker read Dlova's story to the students in the college's Women's World Music Choir and told them that that if they could reach a goal for donation, she would match it. Not only did they meet the goal, but they exceeded it.
"My dream was that if we could get Sim to come, she could meet the choir to make a connection and let her know that she had a support system," said Brubaker.
The power of hospitality to welcome
Dlova was accepted to Goshen College at the end of 2012 and moved to the United States in 2014 to start classes. However, she didn't arrive alone — she was accompanied by her then-three-year-old daughter, Asiko, who just finished kindergarten this year at the college's Laboratory Kindergarten.
The Sawatzkys connected Dlova with Anna's aunt and uncle, Peter Shetler and Jan Bender Shetler, professor of history at Goshen College, who offered Dlova and her daughter a place to live. Jan researches oral tradition, social identity and landscape memory in the western Serengeti, Tanzania, worked for 11 years in Tanzania through Mennonite Central Committee, and she and Peter have served as leaders in the college's Study-Service Term in Ethiopia, Tanzania, and, currently, Senegal.
"We were looking for a small place to rent while I went to school here, and then they said that they would love to have us," said Dlova. "It was great."
Dlova is majoring in informatics with a peace, justice and conflict studies cognate area, which means that she is learning to use technology to solve problems related to peace and justice. She said that she knew from the beginning that she wanted to study computing, but her specific interests changed over the years from the internal workings of computers to programming.
"I would like to work for a nonprofit that trains young women in different things related to education or getting a job," she said. "In a perfect world, I would get a good job back at home, start the nonprofit in areas that it's needed most and hopefully raise enough money to send more young women to college."
The power of music to connect
Just as Brubaker had hoped, Dlova joined the Women's World Music Choir about a year after starting college. "It's just such an honor to have her sharing that music with us," said Brubaker. "She's gifted us with her presence and her outlook on life."
Music is often something that can bring people together, and for Dlova that has certainly been true. Although she hasn't been home in a while, one experience in particular made her feel like home came all the way to Goshen.
"One of the most exciting things that happened was when the Soweto Gospel Choir came to Goshen College," she said. "Somebody ended up getting tickets that were on the floor area — where it's not too much in the front, but just in the right spot where you can see — and they offered those tickets to us. Asiko and I got to sit there and watch. It was an amazing concert."
Dlova said that although she loves the Soweto Gospel Choir, she never would have dreamed of attending a concert in South Africa because the group is so rarely home and the tickets are expensive. But hearing familiar music when she was so far away from home made the experience even more special.
"Growing up, people would make songs up and spread them across villages, and everybody would know those songs as kids," she said. "For the choir to be singing that kind of music … it was like going back to my childhood moments."
— By Grace Weaver '16