Award-winning Soweto Gospel Choir returns to Goshen College Nov. 8
Performing Arts Series Concert: Soweto Gospel Choir
Date: Sunday, Nov. 8, 2015
Time: 7:30 p.m.
Location: Goshen College Music Center's Sauder Concert Hall
Cost: $44, $39, or $25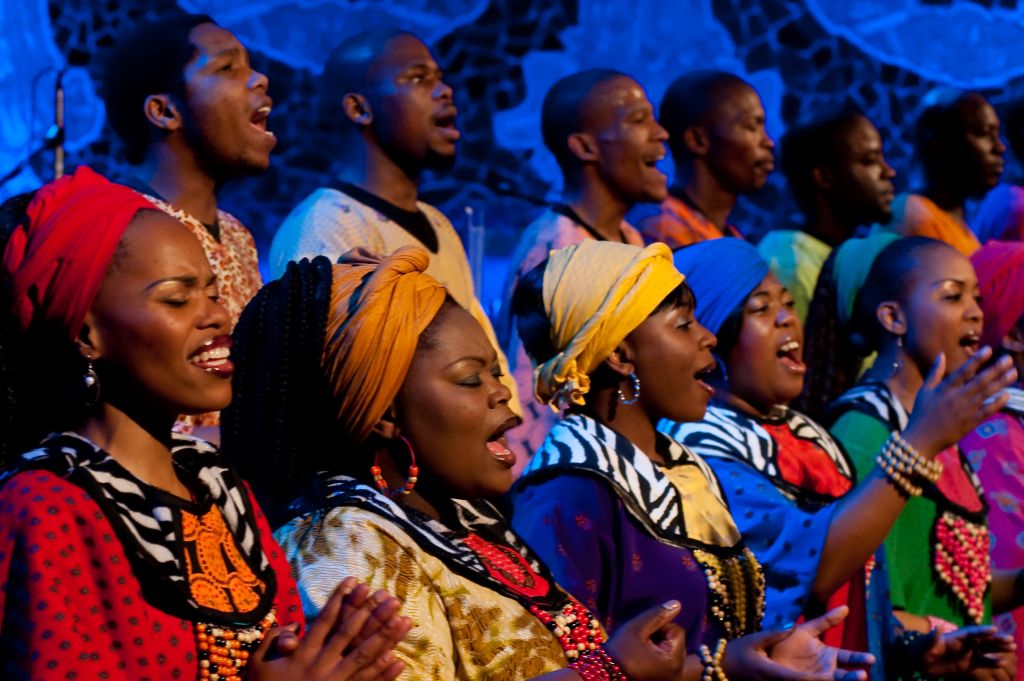 Called "spirited and spectacular" by the New York Times, the Soweto Gospel Choir is making its return to the Goshen College Music Center's Sauder Concert Hall on Nov. 8 at 7:30 p.m for the Performing Arts Series.
Formed in 2002, Soweto Gospel Choir have collaborated, recorded and performed with artists including Bono and U2, Aretha Franklin, Stevie Wonder, Robert Plant, Celine Dion, Red Hot Chilli Peppers, Peter Gabriel and Josh Groban.
The Soweto Gospel Choir have earned international accolades, including Grammy Awards for their second CD, "Blessed" in 2007 and their third album, "African Spirit" in 2008, as well as the American Gospel Music Awards for "Best Choir" and "Best International Choir." Their collaboration on the song "Down to Earth" for the Pixar movie "Wall-E" was nominated for an Academy Award, and in 2011 they earned an Emmy Award for their music promos in collaboration with U2 for the FIFA World Cup.
Among their biggest fans are their patron, Archbishop Desmond Tutu, and the father of their nation, Nelson Mandela. Following the recent passing of Nelson Mandela, the choir has been honored to participate in services around the world celebrating and commemorating his life. These have included the televised memorial Service held in Soweto attended by President Obama and World leaders, a memorial for the Mandela Foundation in New York with President Clinton and Morgan Freeman, and most recently, at Westminster Abbey as part of the Queen's service attended by President Zuma and Archbishop Tutu.
Aside from their outstanding musicianship, the choir has raised over $1 million for various charities such as the Nkosi Johnson AIDS Foundation—a foundation named after a 12-year-old boy, Nkosi Johnson, who gave voice to children with AIDS around the world—that advocates for the care of those living with HIV/AIDS.
The choir has released five albums—their most recent album, "Divine Decade," was released in 2013.
Expect rich harmonies and rhythms, a capella numbers, as well as band and percussion accompaniment for this Nov. 8 performance. Regarded as "dazzling and unified" by the L.A. Times, this performance of the Soweto Gospel Choir is definitely not to be missed.