Women's World Music Choir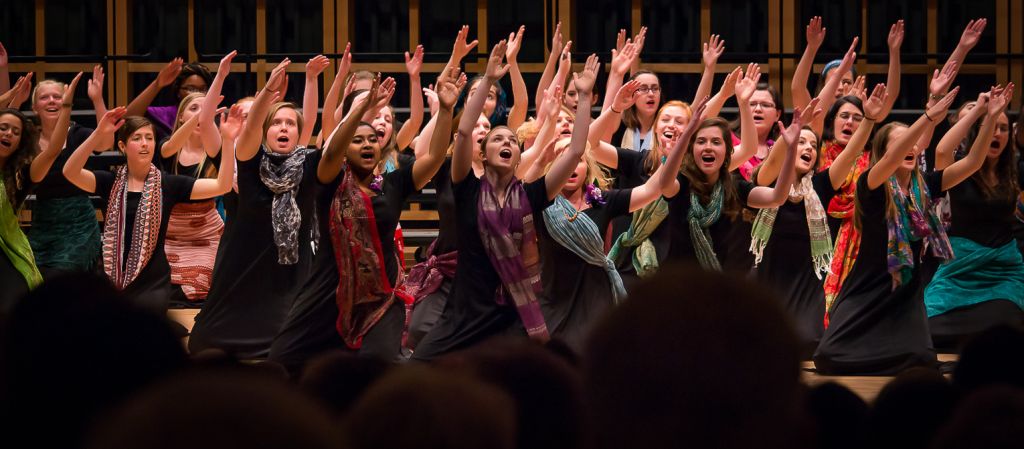 The goals of the Goshen College Women's World Music Choir are to discover and perform spiritual music of many cultures, both national and international, particularly indigenous cultures. The choir highlights the role of women in these cultures, celebrating the unique spirit, faith and energy that women bring to the world as creators and sustainers of life and art.
"When you sing, you have no evil thoughts, and when you are dancing, you feel less hungry."
Esma Redzepova, Roma (gypsy) performer and singer
Spring 2017 Tour
The GC Women's World Music Choir will be touring to the Kitchener-Waterloo area of Ontario, Canada during spring break – Feb. 25-March 2, 2017. 
Performance schedule:
Saturday, February 25 (10:30 a.m) – Evergreen Place, Greencroft Goshen, Goshen, IN
Sunday, February 26 (10:45 a.m.) – Waterloo North Mennonite Church (worship service), Waterloo, ON
Sunday, February 26 (7:00 p.m.) – St. Jacobs Mennonite Church (with First Nations Choir), Waterloo, ON
Monday, February 27 (7:30 p.m.) – Knox United Church, Durham, ON
Tuesday, February 28 (9:25 a.m.) – Chapel performance, Rockway Mennonite Collegiate, Kitchner, ON
Tuesday, February 28 (2:00 p.m.) – Program at Parkwood Mennonite Home, Waterloo, ON
Tuesday, February 28 (7:00 p.m.) – Vineland United Methodist Church, Vineland, ON
Thursday, March 2 (12:15 p.m.) – Chapel at United Mennonite Educational Institute, Leamington, ON
Sunday, March 5 (7:30 p.m.) – Home Concert, Sauder Concert Hall, Goshen, IN
Debra Detwiler, Conductor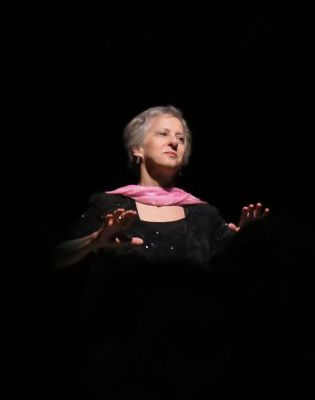 Debra Detwiler is professor of music at Goshen College, where she is involved in the choral, voice and opera theater programs, teaches related courses, and has served as department co-chair. Since coming to Goshen in 1999, Detwiler has directed the Goshen College Chorale and Chamber Choir, and in 2004 created the Women's World Music Choir, which was an invited performer at the 2013 Indiana Music Educators Association conference in Ft. Wayne (Ind.), and has also performed at the 2008 Central Division conference of the American Choral Directors Association in Grand Rapids (Mich.). A recent Maple Scholars research project with alumni Solomon Fenton Miller & Lisa Horst Schrock and hymnologist and musicologist Dr. Mary Oyer is now housed in the Indiana University Folklore Archives. Its focus on indigenous African music emphasizes Detwiler's interest in exploring how the use of hymn and folk singing can become a catalyst for connections between people of differing cultures, faiths, ages, and circumstances, and serve as an empowering tool for women.
AUDIO SAMPLES
2016-17 Concert Schedule
Homecoming Music Gala:  Saturday, October 8, 2016, 7:30 p.m., Sauder Concert Hall
GC Combined Choirs and Orchestra:  Saturday, November 5, 2016, 7:30 p.m., Sauder Concert Hall
Winter Choral Concert:  Sunday, February 19, 2017, 7:30 p.m., Sauder Concert Hall
Home Concert (2017 Tour): Sunday, March 5, 2017, 7:30 p.m., Sauder Concert Hall
EARTHTONES: Songs from Many Cultures:  Saturday, April 22, 2017, 7:30 p.m., Sauder Concert Hall