The Laboratory Kindergarten is a partnership between the Goshen College Education Department and Goshen Community Schools. The kindergarten has been in operation by Goshen College since 1959. In January of 1964 the Indiana State Board of Education awarded the kindergarten a first class certificate of school commission which it has since maintained. In 2008 it joined a partnership with Goshen Community Schools.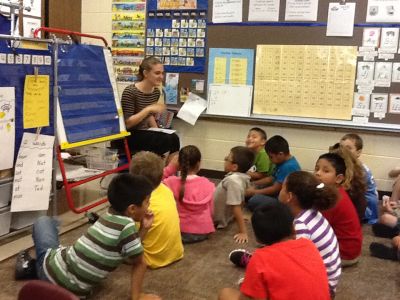 The curriculum of the laboratory kindergarten is an emergent curriculum, based on the developmental needs of kindergarten children, The Essential Learnings of Goshen Community Schools and the Indiana State Academic Standards.  It emerges each year in ways specific to the kindergarten students, their families and their interests and to Goshen College and Goshen Community Schools, its students, faculty, artists, musicians, exhibits and programs. Always integral to a kindergarten program are literacy, numeracy, and social strategies and skills and these emerge within the curriculum and are emphasized appropriately during the year.  The program incorporates integrated mind/body activities.
The GC/GCS Lab Kindergarten is taught and directed by Jenna Labash. Goshen College education students work alongside her as they complete field experiences in the kindergarten. They become important and invaluable to the kindergarten program. The college students' work, for which they fulfill course requirements and receive college credit, makes possible low student/adult ratios in the kindergarten each day and ensures that kindergartners will receive individual guidance and attention.  There is also a GCS paraprofessional who works with children a half day every day.
The kindergarten is located in the northeast corner of the Church-Chapel building on the Goshen College campus. The classroom was remodeled and significantly enlarged in 1993. The physical environment is spacious and well designed. The educational environment provides meaningful, challenging, and developmentally appropriate experiences for five and six year olds. The Goshen College/GCS Partnership Kindergarten experience is unique and exciting.
Questions about the kindergarten program and inquiries concerning enrollment (application can be made any time for any year) should be directed to:
Kathy Meyer Reimer
Goshen College
1700 S. Main Street
Goshen, IN 46526
Ph: (574) 535-7440
email: education@goshen.edu