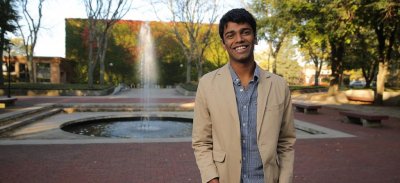 Yohaan Varghese '15, an accounting graduate from India, has a deep appreciation for sustainability. At Goshen College, he became aware that even small communities can change the world.
How have your views changed at GC?
All of these sustainable, energy-saving and environmentally friendly efforts on campus–like the biodiesel plant, the solar heater plant, the composting project and the fact that Goshen College buys all of its energy from renewable energy sources–have definitely broadened my view of how a small community like Goshen can make a global impact.
What do you hope to do with your degree?
I plan to work in the U.S. for some time in order to gain a better understanding of administrative and business systems. Eventually, I hope to take everything I learn about sustainability and good business and administrative practices back home to India and implement it in some way to benefit India.
What do you appreciate most about Goshen?
It is amazing to see how much people care and look out for each other. The number of cultures represented on campus is truly amazing, and it is also wonderful to see all the opportunities that the college has made for the Goshen community to learn more about these cultures. I think the best characteristic about Goshen's community is how it plays a key role in helping students succeed with so many opportunities.