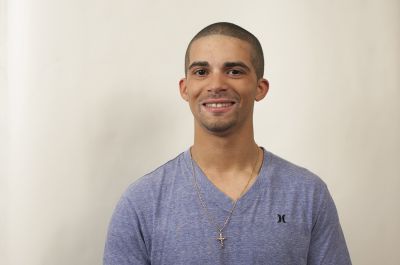 Trevor Emery, a 2016 exercise science graduate with a health minor from South Bend, Indiana, appreciated the homey atmosphere and enthusiasm for academics at Goshen College. He was active in the Black Student Union and played baseball.
Why did you choose Goshen College?
I chose Goshen because I liked how supportive and helpful everyone is. Goshen is so welcoming; you get a real sense of community when you're on campus. During my first visit to campus, everyone greeted with me a smile and seemed genuinely happy that I was there.
What has kept you at Goshen College?
The professors are all approachable and willing to help when needed. Unlike some other colleges and universities, at Goshen you are not an anonymous face in the crowd. All my professors know my name. They are not just lecturing at me, they are involved in my learning process. There are not a lot of places like Goshen College.
What do you hope to do with your degree?
I want to get into sports medicine as an athletic trainer or team doctor. I want to be able to help people recover from their injuries and make them stronger and healthier, both physically and mentally.