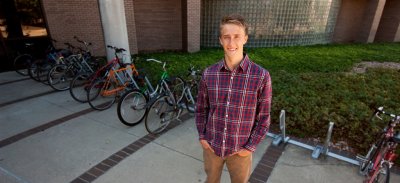 Thomas Leonard is an environmental science graduate from Columbus, Ohio. He enjoys watching comedies ("Anchorman" is his favorite), cheering for the Buckeyes and listening to the Lumineers and Macklemore.
Why did you choose Goshen College?
Growing up Mennonite, I knew that Goshen was always a good option just because of the faith aspect. What made me ultimately choose Goshen was that I felt at home on campus and knew that I would be able to take part in athletics at a collegiate level.
What do you appreciate about Goshen?
At Goshen I am able to fulfill my desire to try new things. Every GC student should experience a Goshen College soccer game. The cheering and the chants from the student section make a really great atmosphere that is fun to be in.
What opportunities have you had here?
Whether it is intramurals, pick-up games, international meals, prayer circles or hymn club, there is always something new that you can try. I have learned through trying to take part in as many activities as I can that it is not as hard as people might think for all different kinds of students to get along as long as they have one common passion or goal.
How have your views changed?
Before I came to Goshen, I was really searching for what I believed about faith. I grew up Mennonite and went to a small Christian high school, and I had a lot of different viewpoints to try to understand. Since being at Goshen, however, I have really come into my own as to what I believe and what feels right to me. I really became passionate about the environment at Goshen because I saw how enthusiastic many other people are about the subject. This is why I am now an environmental science major.
What makes Goshen different?
I believe that it is the close-knit community that really separates Goshen from other schools. I love how people from different nations can hang out and laugh together and not look at each other's differences.