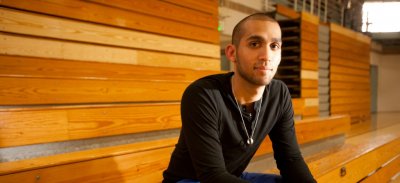 Tavo Parral, a 2013 graduate, came to Goshen College to be a teacher. But while he was here, he was also a first generation college student, a basketball player, a leader in the dorm and a peacemaker. 
I grew up in San Antonio, Texas and my mother was a single parent who struggled a lot. That helped me grow as a person. It was hard sometimes to go in the other direction, but I stayed on this path and that led me here. My experiences at Goshen have helped mold me into someone people can look up to and be inspired by. I've grown as a leader here.
When I came to Goshen I didn't know what I wanted to do. I met with an academic counselor here and she said I would be a great teacher; she said I worked well with people. I really like the education department and it's helped me grow as a leader because I get to work with younger people. I want experience being in control so I can be in charge of a classroom. That's why I became a resident assistant. The best thing about doing that kind of stuff is getting to know others and creating relationships.
I was always hopeful for a good basketball season, individually and for my team. I created great long-lasting life-long friendships with my teammates. I finished school, not only for me, but for my family, particularly my mother. I grew spiritually in my faith here and I hope to always hold on to those Christian values to become closer to God.
–Tavo Parral