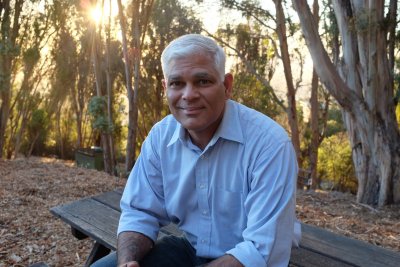 Shashi Buluswar '90: Culture for Service Award Winner
Oakland, California
CEO of the Institute for Transformative Technologies
Computer science and business double major
---
Shashi Buluswar '90 is committed to problem-solving that brings basic rights to all humans, as he dedicates much of his professional life to combating global poverty, fostering peace between India and Pakistan, as well as finding home-grown solutions for local empowerment.
In the late 1980s, Buluswar traveled to Goshen College from Calcutta, India, to study computer science and business. He was soon influenced by the intertwined ideas of service and vocation.
"Growing up in a developing country, I was accustomed to the idea that the main purpose of education was to ensure we got decent jobs," Buluswar said. "At GC, I was exposed to the idea, possibly for the first time, that service can and should be a core tenet of not just education, but of life in general."
This transformative experience soon influenced Buluswar as he moved forward in the professional world with a problem-solving lens, still valuing his cultural roots.
"This idea that as an Indian I have to do what I can to help India became very important," he said in an interview with Malcom Gladwell in 2019.
"I realized that ultimately only Indians can fix India's problems; only Pakistanis can help Pakistan; and only Kenyans can help Kenya. So it became very important for me to have the sense of local empowerment."
Following graduation from Goshen College in 1990, Buluswar earned a master's degree in business administration from Northwestern University before completing a Ph.D. in artificial intelligence from the University of Massachusetts.
Buluswar spent more than a decade training to be a scientist, a business strategist and an entrepreneur with the goal of pioneering a new approach to global development.
"The field of global development attempts to tackle urgent and important problems," Buluswar said. "For far too long, however, the approach to these problems has been led by a charity lens, rather than a problem-solving lens. Growing up in India, the charity lens seemed to me to be not just ineffective, but also offensive and disempowering. Charitable institutions and initiatives were invariably led by white people, while the recipients of the charity were inevitably people of color."
For the past five years, Buluswar has pioneered the Institute for Transformative Technologies (ITT), with a mission to bring to life breakthrough technological solutions for combating global
poverty, through advanced research, engineering, a unique commercialization model and a global network of partnerships.
Before founding ITT in 2015, Buluswar was a partner at Dalberg Global Development Advisors, a mission-driven strategy consulting firm which serves international NGOs, foundations, governments, social entrepreneurs and the United Nations.
Buluswar's use of technology in development is one handled with careful consideration. ITT was born out of a 50 Breakthroughs study conducted in 2017, which quantified technical challenges in international development. The study has been recognized by the United Nations Commission on Science & Technology for Development as the technology anchor to the Sustainable Development Goals.
Since then, ITT has introduced technology in the form of solar mini-grids, vermifiltration composting toilets, groundwater drill, solar vaccine fridge and infant warmers to places in Kenya, Nigeria, India and beyond.
But Buluswar is much more than a visionary for global development; he is a committed activist in whatever he pursues.
Beyond his professional interests, he spent a decade competing on the Indian national rowing team, and made a critically acclaimed documentary film about the India-Pakistan conflict and "cricket diplomacy." Buluswar also teaches at the University of California at Berkeley.
"From solving global poverty, to fostering a peace movement between India and Pakistan; from competing for an Olympic medal to raising two strong, kind girls whose sense of global citizenship is beyond their years, Shashi has done it and continues to do more," said Noha El-Ghobashy, chief operating officer for ITT. "And this is not to say he's been wildly successful in all of it, but that's the beauty of his commitment to action, to learning and to bringing along a group of enthusiasts who are passionate about solving some of the world's most intractable problems."
Now in the age of COVID-19, Buluswar and those at ITT are partnering with other global development organizations to design and promote high-impact technology innovations, such as affordable breathing assistance devices for COVID-19, for primary healthcare systems in low-income countries.
"At the heart of anything that Shashi does is an extreme awareness that despite the accomplishments to date, we have a long way to go to achieve justice and basic human rights for every individual," El-Ghobashy said.
And Buluswar isn't finished.
"Working in the field has been extraordinarily gratifying because of the chance to make a big difference," he said. "The work itself is intellectually fascinating, and I get to travel all over the world and work with amazing, inspiring people."
– By Mackenzie Miller '21