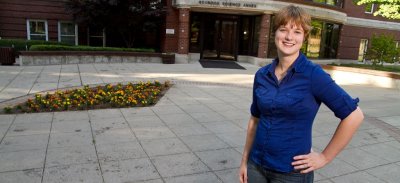 Sarah Lerch, a 2012 graduate from Spring Valley, New York, studied chemistry and biology. While at Goshen College, she had the opportunity to study alongside graduate students and professors in lab settings.
Sarah first heard about Goshen from the people she trusts most: her family. If two generations before her had enjoyed Goshen College so much, why wouldn't she?
"My family has a history here, and I knew there was a good science program," said Sarah. "Goshen has a lot of lab equipment for such a small school, and I knew that the size also meant professors could be attentive to each student individually."
Just how attentive?
"I've been to most of their houses for meals," said Sarah. "I know all of my profs really, really well."
For Goshen College students, lab experience does not end on campus. Sarah knew that if she wanted even more research opportunities to prepare her for graduate school, Goshen would give her the connections. With a facility like Notre Dame University so close by, all she had to do was ask.
"Any student who wants more time in the lab can get it," she said. "I was closely involved with lots of projects at Goshen. One year, I started working with a professor at Notre Dame. We did research in nanospectroscopy, exploring techniques and procedures."
In the Notre Dame lab, Sarah was the only undergraduate scientist. Learning alongside three doctoral-level research experts, she was working towards her future.
Sarah is currently attending graduate school to study material science. She wants to make a meaningful and peace-centered contribution to the world. A liberal arts education at Goshen College sealed the deal.
"Through classes like oral communication and women in literature, I've become better at thinking and expressing my ideas," said Sarah. "During my Study-Service Term, I volunteered at a women's co-op in Nicaragua where they make paper. In my career as a scientist, I want to work with materials that are environmentally friendly. It's important to be responsible and globally-oriented."
— By Anna Ruth '12, photos by Alex Pletcher '14