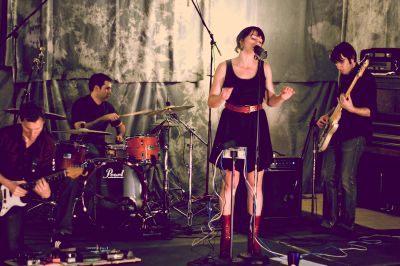 Rachel Eisenstat, a 2006 graduate, studied peace, justice & conflict studies at Goshen College. Since graduating, she has recorded an album with top Denver musicians using funding support from community.
Denver-based musician Rachel Eisenstat, a 2006 Goshen College graduate, is using her musical training from the college's music department to record her band Raven Jane's debut album.
Eisenstat has been working as an independent musician in Denver since 2007, releasing a solo album in 2010. Drawing inspiration from the unfettered passion in Janis Joplin's vocals, Radiohead's versatility and Jack White's attitude, Raven Jane brews their own spirited contribution to the Colorado soundscape.
Raven Jane is using a relatively new approach to fund the album called crowdfunding, which has gained immense popularity in recent years through sites such as Kickstarter and Rockethub. Friends and fans contribute financially in exchange for rewards such as copies of the band's album, posters and private house concerts. The band's demo video and other music can be heard on their fundraising site.
Several GC alumni are involved in the Raven Jane album. Sondra Eby '04 is Raven Jane's marketing manager and web designer, as well as co-writer on some songs; Daniel Eisenstat (GC student from 1999 to 2001) is a co-writer on the album and will play guitar on several tracks. Eric Meyer '05 also contributed to the songwriting.
Some of the most widely-recognized Denver musicians will appear on the upcoming Raven Jane album. Drummer Daren Hahn works with such national acts as Ani DiFranco, Geggy Tah, The Eels and John Common. Keys player and pianist James Han toured last summer supporting Mumford & Sons with Colorado acts Gregory Alan Isakov and Nathaniel Rateliff. Guitarist Luke Mossman is the lead guitarist for Achille Lauro, who the Denver Post describes as "one of Denver's best and constantly underrated atmospheric rock bands, and one that deserves a national audience."
–photo by Kenny Storms