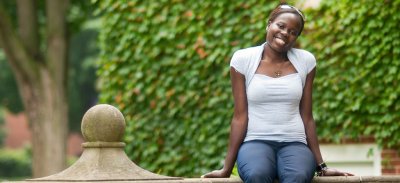 Peni Acayo, a 2011 graduate, came to Goshen to be an artist, but she was also a star athlete, a scholar, a volunteer and a peacemaker. Far away from her home in Kampala, Uganda, Peni took advantage of many extra-curricular opportunities.
From being recognized nationally for her volleyball skills three years in a row by the National Association of Intercollegiate Athletics (NAIA) to having her sculptures and graphic designs displayed in the college's art gallery, Peni took advantage of her opportunities at Goshen College. All the while, she was 7,700 miles away from her home in Kampala, Uganda.
As a student at GC, Peni was known as one of the best athletes on campus, setting records and receiving awards in volleyball and track and field. In 2009, Peni was the first Maple Leaf volleyball player to be named Mid-Central College Conference Player of the Year, the first Goshen NAIA 1st Team All American in volleyball and was ranked eighth in the country with 4.3 kills a game.
As a member of the track and field team, Peni won three conference championships (high jump, 2008; triple jump 2009, 2010), held the GC record in the indoor and outdoor triple jump and in 2010 was the national runner-up and an NAIA All American at both the indoor and outdoor national championships in the triple jump.
Off the court and the track, Peni was also known for her quick smile and positive attitude, her willingness to give back and help others – whether by holding volleyball clinics for kids, speaking to youth or raising money – and for her passion for graphic design that makes a difference.
In further pursuit of that goal, she enrolled in the visual communication design M.F.A. program at Kent State University in Ohio.