Paul '08 and Rebecca '08 Shetler Fast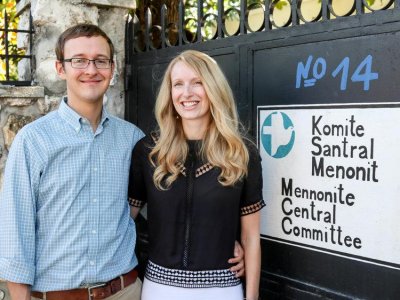 Paul '08 and Rebecca Shetler Fast '08: Young Alumni Servant Leadership Award
Goshen, Indiana
Paul Shetler Fast
MCC global health coordinator
History major, minors in international studies and global economics
Rebecca Shetler Fast
Director of Elkhart County's System of Care
Social work major
---
For Paul '08 and Rebecca '08 Shetler Fast, serving together in Ethiopia through Goshen College's Study-Service Term (SST) solidified a deeper sense of calling in their lives: to serve vulnerable and marginalized people.
Paul and Rebecca first met on SST in Ethiopia, both doing service for the Mennonite church's HIV/AIDS program.
"After SST, we decided on a career path that led us through grad school, through service with MCC in Haiti, and now back to Goshen where I continue work as Global Health Coordinator with MCC and Rebecca is now working with Oaklawn as Director of Elkhart County's System of Care," Paul said.
Growing up in Tanzania and Ontario, Canada, respectively, Paul and Rebecca brought different perspectives to the table, with a shared desire to serve, leading them to accept a five-year volunteer term in Haiti with Mennonite Central Committee, beginning in 2015.
During this time, the two served as co-country directors, before Paul moved into his role as Global Health Coordinator in 2018. While in Haiti, Paul and Rebecca worked with diverse local partners working on water and sanitation, nutrition, mental health, reforestation, restorative justice, and education for vulnerable youth. Following Hurricane Matthew in 2016, Paul, Rebecca and others at MCC worked to pilot a new model of water, sanitation, and hygiene (WASH) programming to combat cholera in hotspot communities that had been devastated by the disease since it was brought to Haiti by UN forces in 2010. These efforts contributed to the elimination of cholera in all participating communities within 6 months of implementation.
"They bring together a depth of theoretical and practical knowledge from their academic studies and their public health work, bringing that into conversation both with learnings from the Haitian context and, in Paul's case, from the wide variety of contexts globally in which MCC partners with churches and local organizations dedicated to improving public health," said Alain Epp Weaver, director of program development at MCC.
Prior to joining MCC, Rebecca and Paul operated a popular food blog, The Hungry Hounds.  Throughout their time with MCC, they used their blog savvy both to create an MCC Haiti blog and to highlight stories about MCC's work, partners, and Haitian food and culture.
Now located in Goshen, Paul and Rebecca have sought out new ways to empower others. This fall, Paul will work with the Goshen College community to pilot a partnership between MCC and GC to launch a Global Public Health Virtual Practicum.
"As the lead instructor for the course, this will be a great opportunity to share my passion for good community-led public health practice with Goshen students as well as young adults from across the world through MCC's young adult programs," Paul said.
Having transitioned out of her role with MCC in February, Rebecca works with local nonprofits, community leaders and groups to reduce health disparities that impact children's ability to reach their potential and develop innovative and collaborative solutions that build on community strengths.
"In choosing to serve in Haiti with MCC, and now with Paul as MCC Global Health Coordinator, they have given up time in their lives to focus their energies and gifts on responding to the voices of the marginalized," said Rebecca Burkholder, MCC area director for Central Southern and Northeast Asia.
Though sharing themes of service and empowerment in their work, Paul and Rebecca have set goals for their individual work moving forward.
"I hope in the next few years to pursue a doctorate in public health to be able to continue growing professionally and finding opportunities to make an impact with global public health partners in this important work," Paul said.
"I hope that in the next year I can continue to support the strong tradition of collaborative work between Elkhart area nonprofits to ensure all kids in our community get the support and services they need as early as possible," Rebecca said. "In building our community's public mental health system, we are working with local partners and organizations to launch a children's wellness dashboard to track actionable trends indicators of children's wellbeing and mental health across Elkhart County."
Whether in Haiti or Goshen, their purpose remains the same.
"For both of our careers there has been a theme of working to serve with vulnerable groups and marginalized people in ways that help to empower and allow those people and communities to find their own voice and path forward." Paul said.
Paul and Rebecca live in Goshen with their children, Madeline and Gideon. They attend Berkey Avenue Mennonite Fellowship.
- By Mackenzie Miller '21