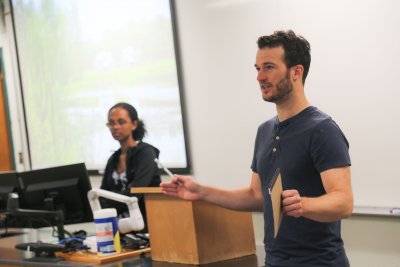 Assistant Professor of Biology, Director of Pre-Health Programs
What drew you to teach at GC?
Goshen College has small class sizes, a strong concern for justice and equity, a strong academic history and a unique Study-Service Term program, all of which make GC a great place to teach. Being a small institution, we have a lot of freedom to tailor our classes and programs to the needs of our students, and we are able to get to know each of our students very well!
What do you love most about teaching GC students?
I enjoy the open-mindedness and passion for learning that our students have, and I sense a genuine desire in our students to learn for the purposes of making the world a better place. Students often have multiple interests including science, music, art, athletics and more!
What is your favorite teaching moment at GC?
Some of the best moments are when students present their projects to their classmates or at a public venue, and I can see how far they have progressed not just with their project, but in their ability to communicate their project to others! This is such an important skill, not just for scientists, but for everyone!
How do you incorporate GC's core values into your lessons/classes?
Biomedical science is a global discipline with scientists all over the world sharing their results and ideas on how to improve human and animal health, so the core value of being a global citizen is an especially natural fit for our molecular biology students. In addition, scientists and healthcare clinicians all need to be lifelong passionate learners, servant leaders, and compassionate peacemakers to be excellent in their fields.
Professors keep these ideas in mind as they plan class readings, assignments, discussions, etc. and I hope we model them to our students as well. One topic we like to talk about in the biology department is the limits of science. Science is merely a tool we use to understand the world around us. Who should fund science and what kind of science should be funded? What important questions does science NOT answer?